Munich was a very important city for Queen and specially for Freddie, this is why I decided to spend 3 days there and follow their steps. I've fallen in love with this wonderful, clean, and elegant city!. There are many interesting locations to visit and you can do it in a couple of days, because most of them are in the city center and very near to each other. The furhest are Olympiahalle and Arabella Haus, but still just 25 minutes by metro from the center. So if you ever have the chance do not hesitate to visit München's Queen locations!
1. Olympiahalle
(Olympiapark, Spiridon-Louis-Ring 21, 80809 München)
Queen played 7 times between 1978 and 1986, and 4 times more without Freddie (source: QueenConcerts.com). It is next to the Olympic Stadium and you can see it from the top of the Olympic Tower, which has great views by the way: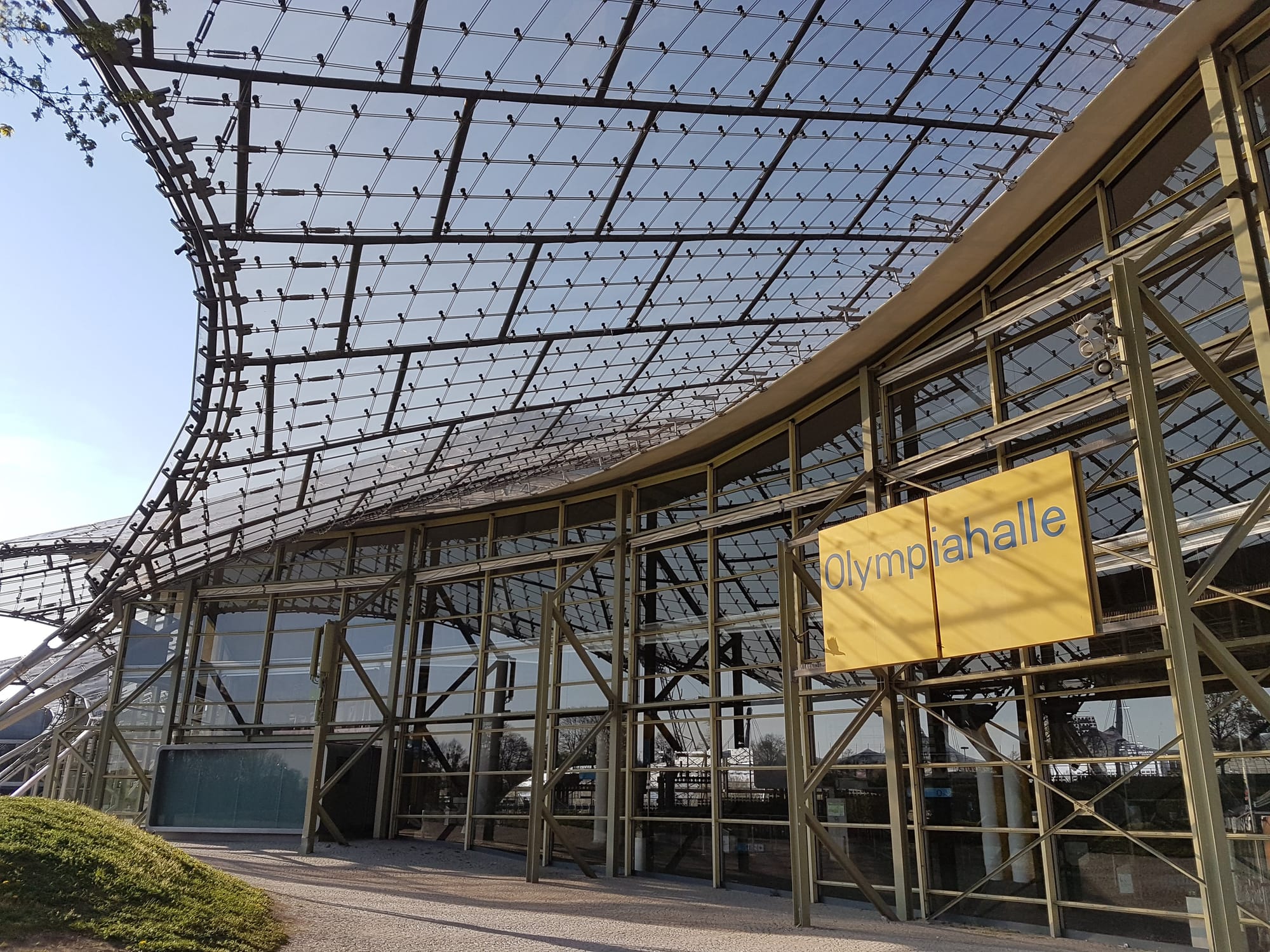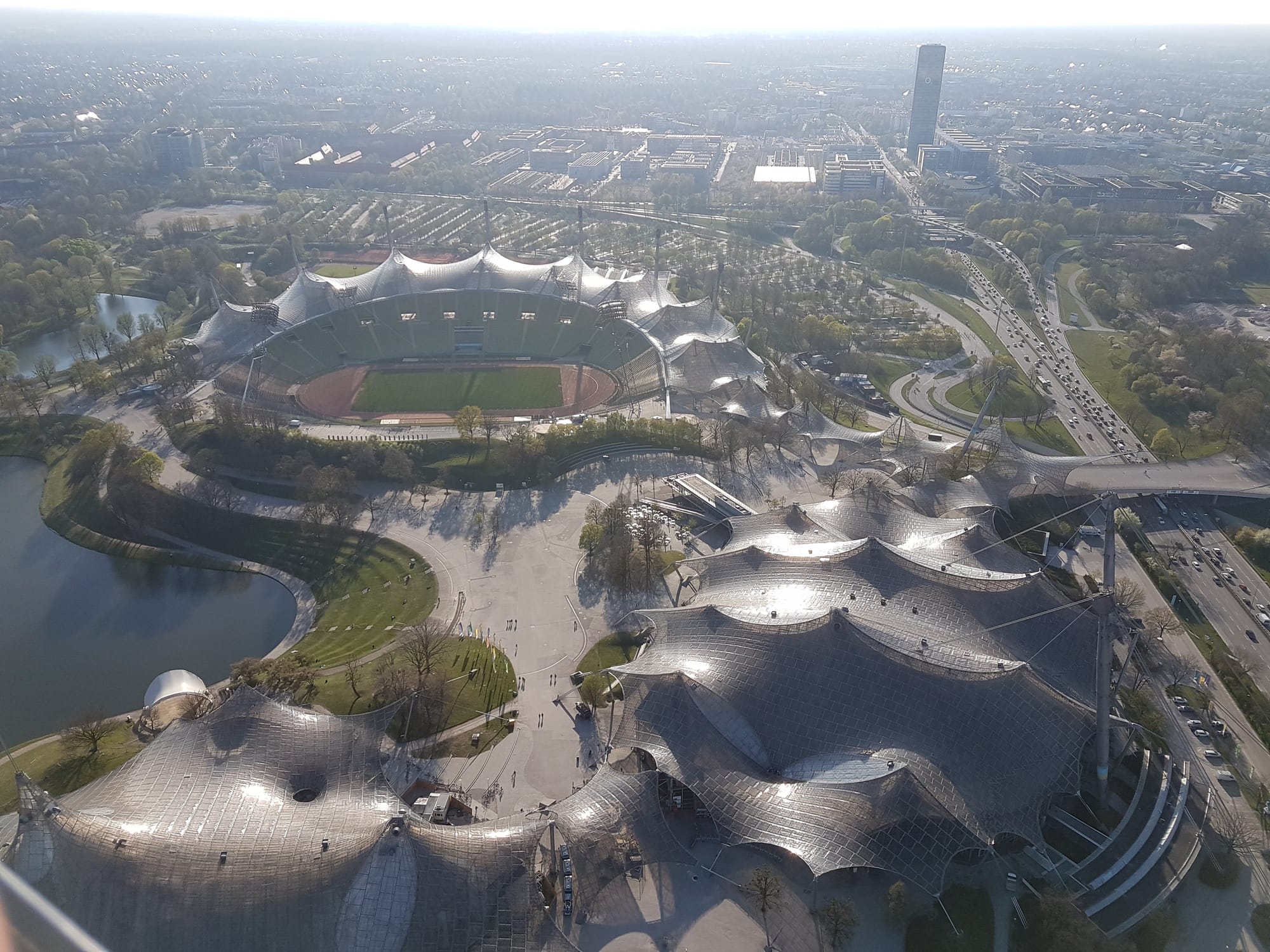 2. RockMuseum
(Spiridon-Louis-Ring 7, 80809 München)
This little museum is located in the top of the Olympic Tower and it's worth visiting. There is some Queen memorabilia: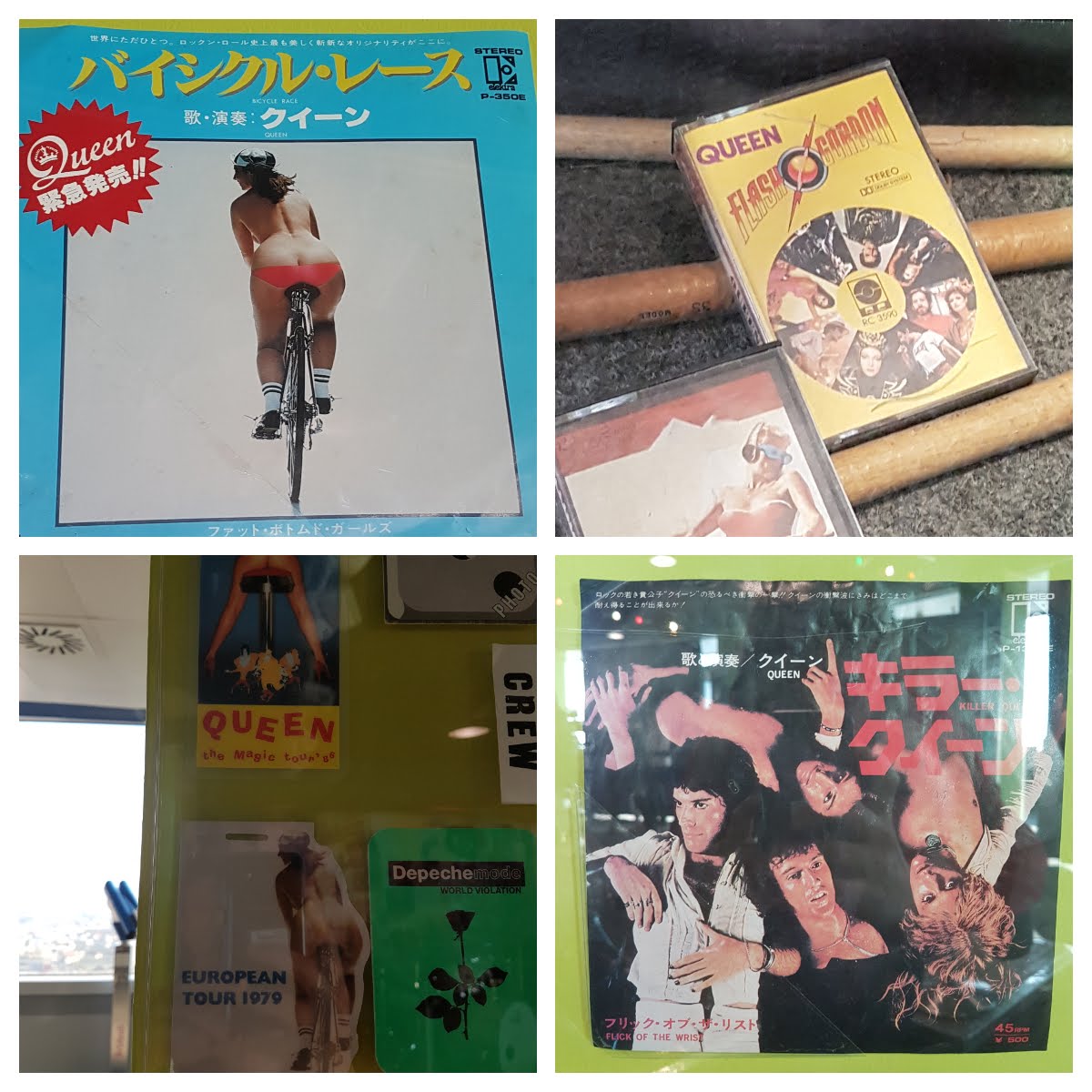 You can also see the stage trousers that Freddie wore during a part of the European Tour in 1978, acording to Chris Lamb: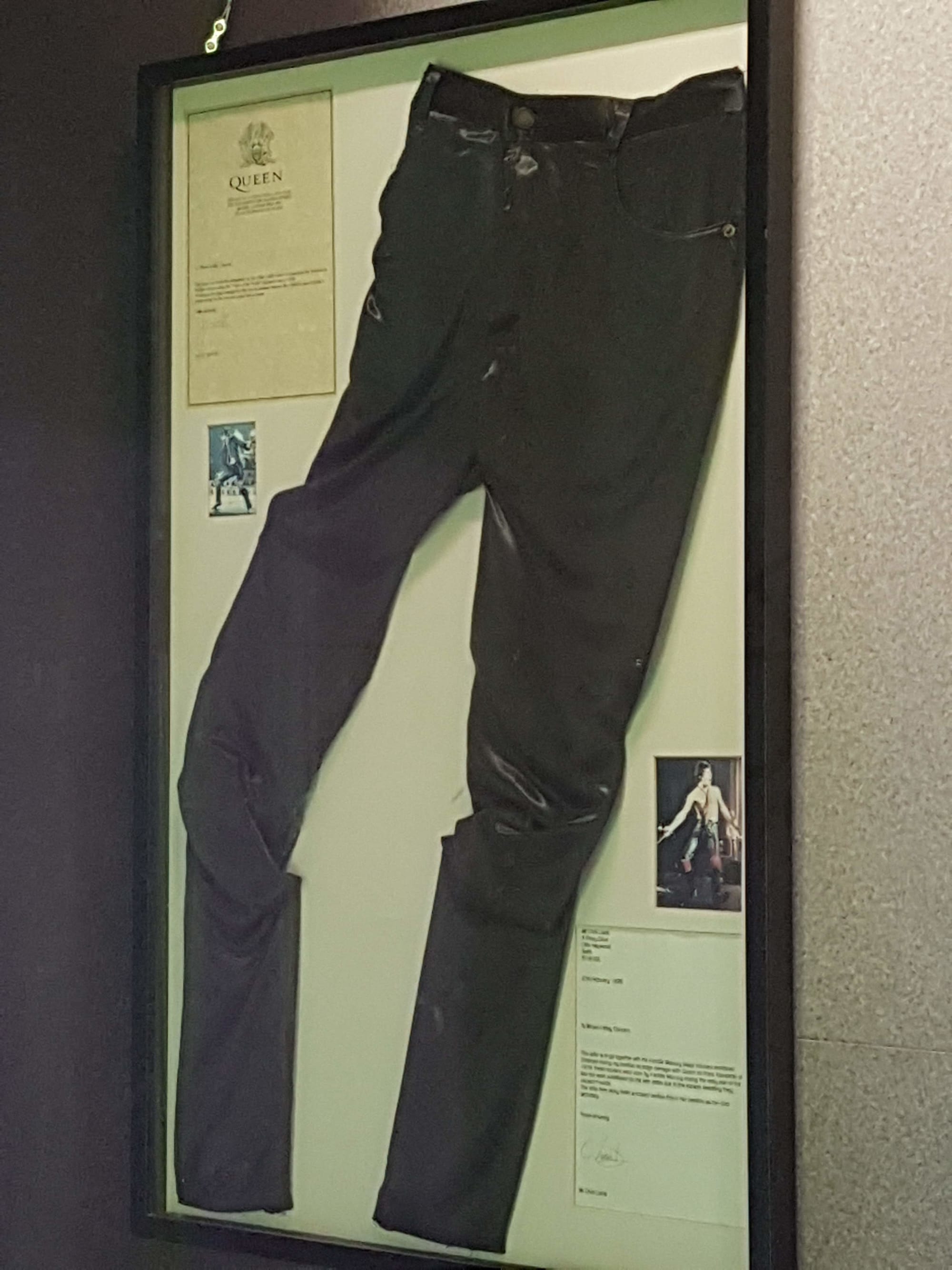 Outside the building, there is a short "Walk of Fame", here you can see two of Freddie's friends' hands: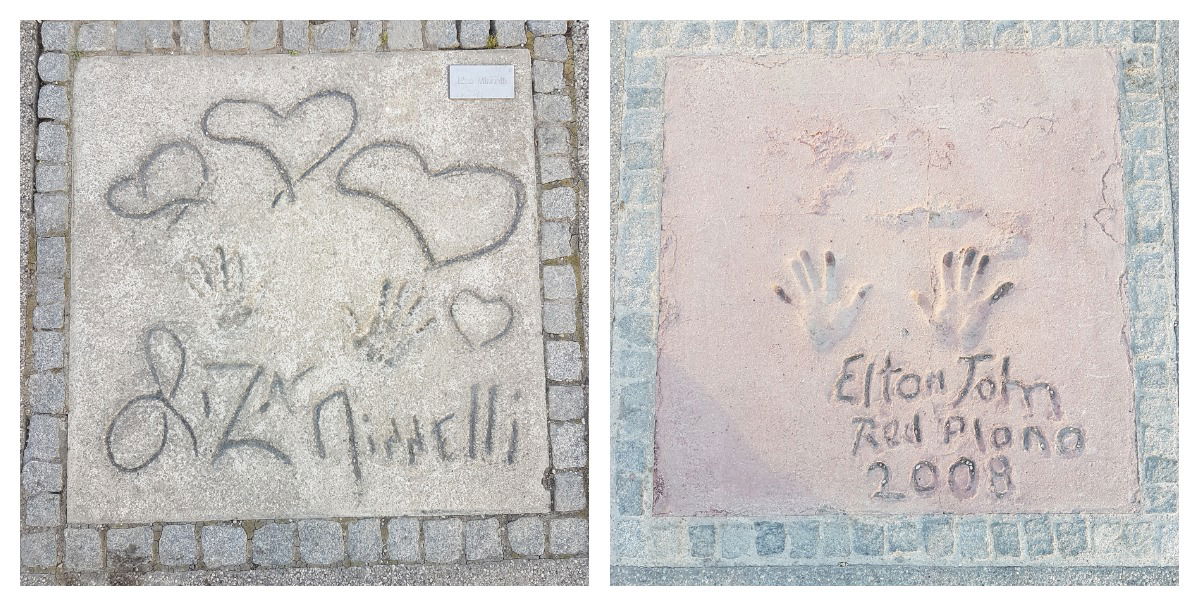 3. Former "Musicland Studios"
(Arabellastraße 5, 81925 München)
Unfortunately, these mythical studios do not exist anymore. They were located in the basement of a big building called "Arabella Haus", where there was also a hotel in which Queen used to stay. Nowadays there are several shops and the Sheraton Arabellapark hotel: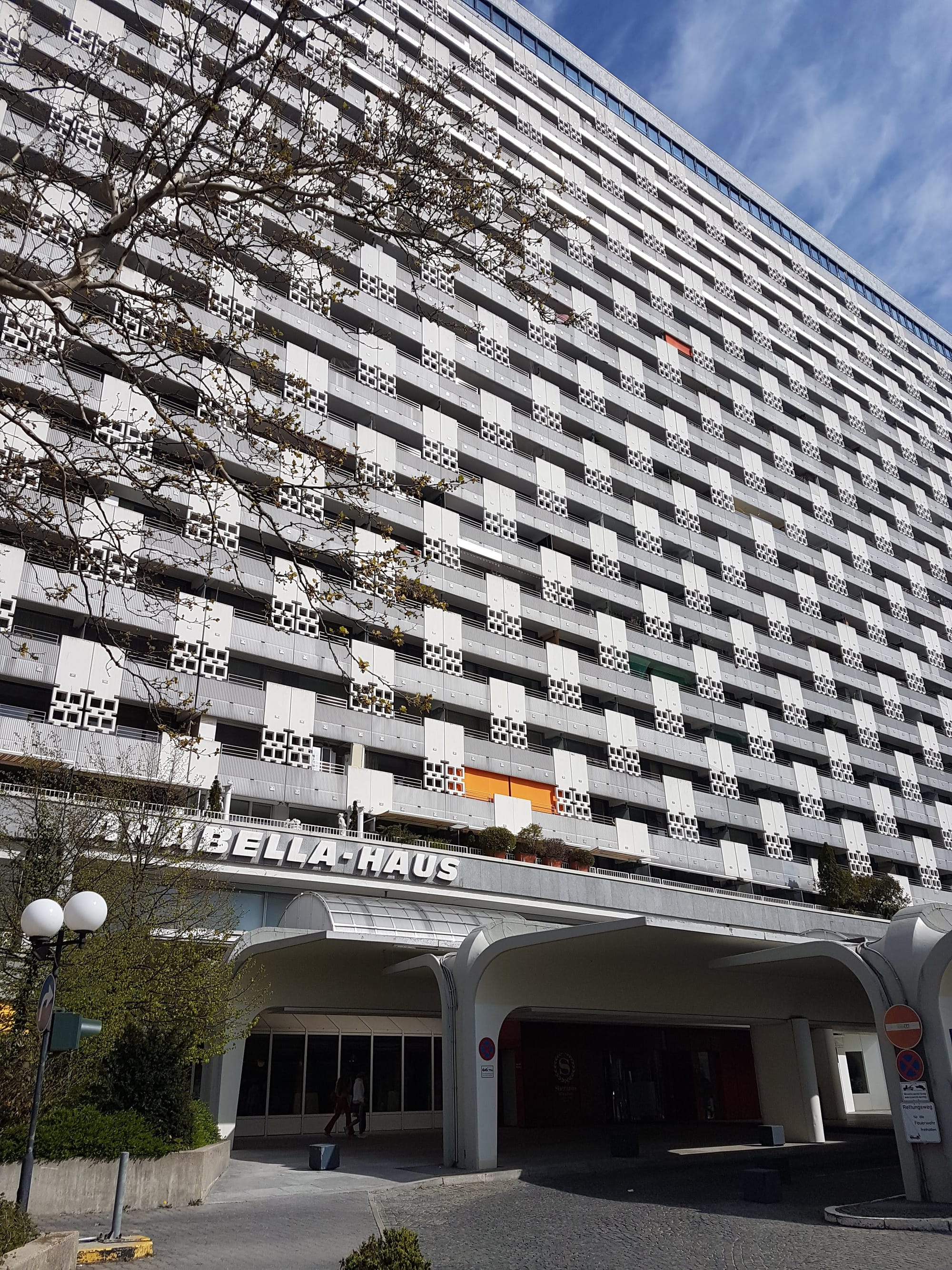 It took me quite a lot of research to find out the exact location of the former studios, and a nice concierge of the Sheraton told me where the entrance was. I could also check it with footage from "The Great Pretender" documentary, where you can see Freddie getting there. See snapshots from the video on the left and how it looks today on the right: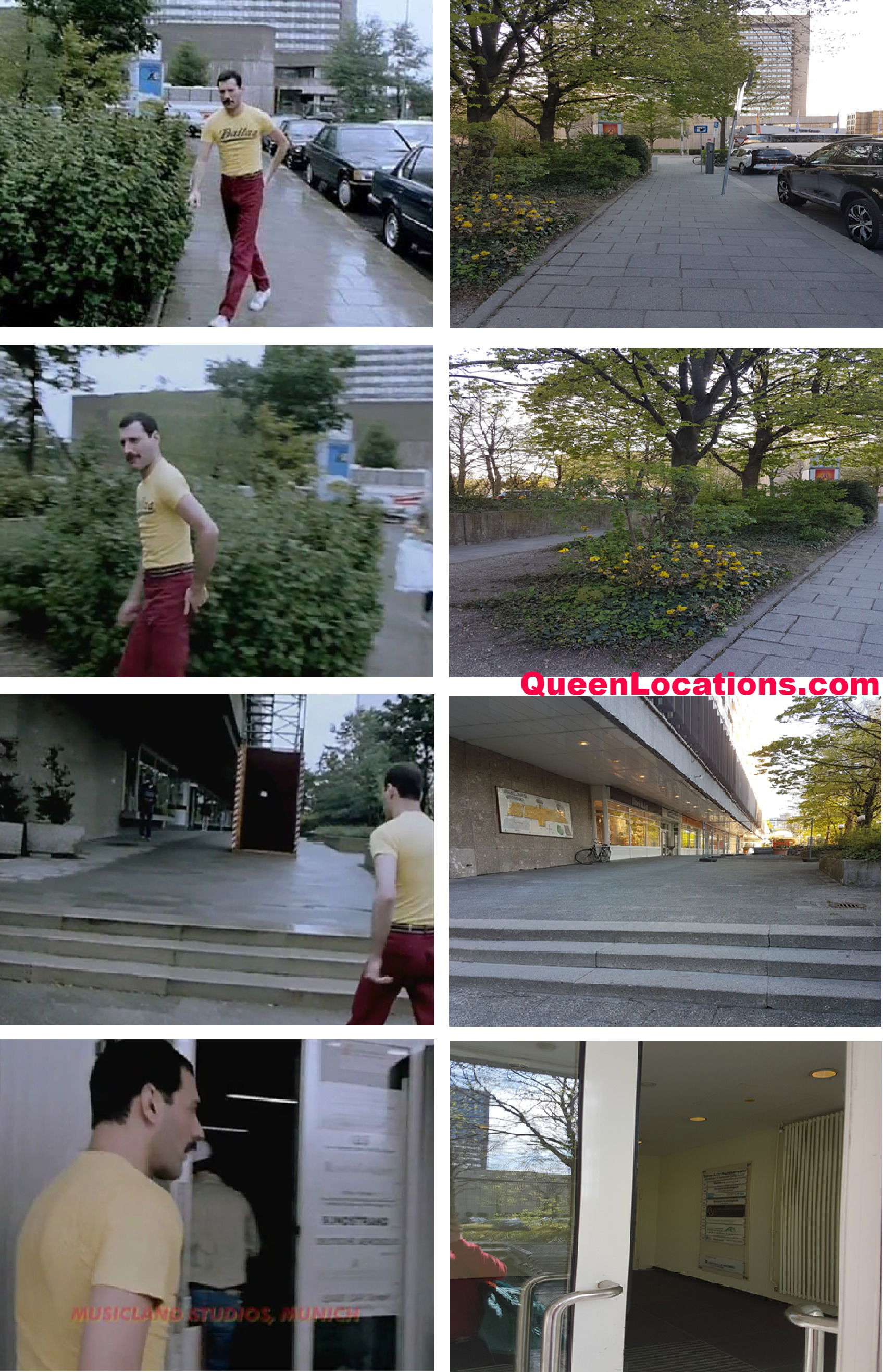 Taking a closer look you can see the revolving door which used to be the entrance: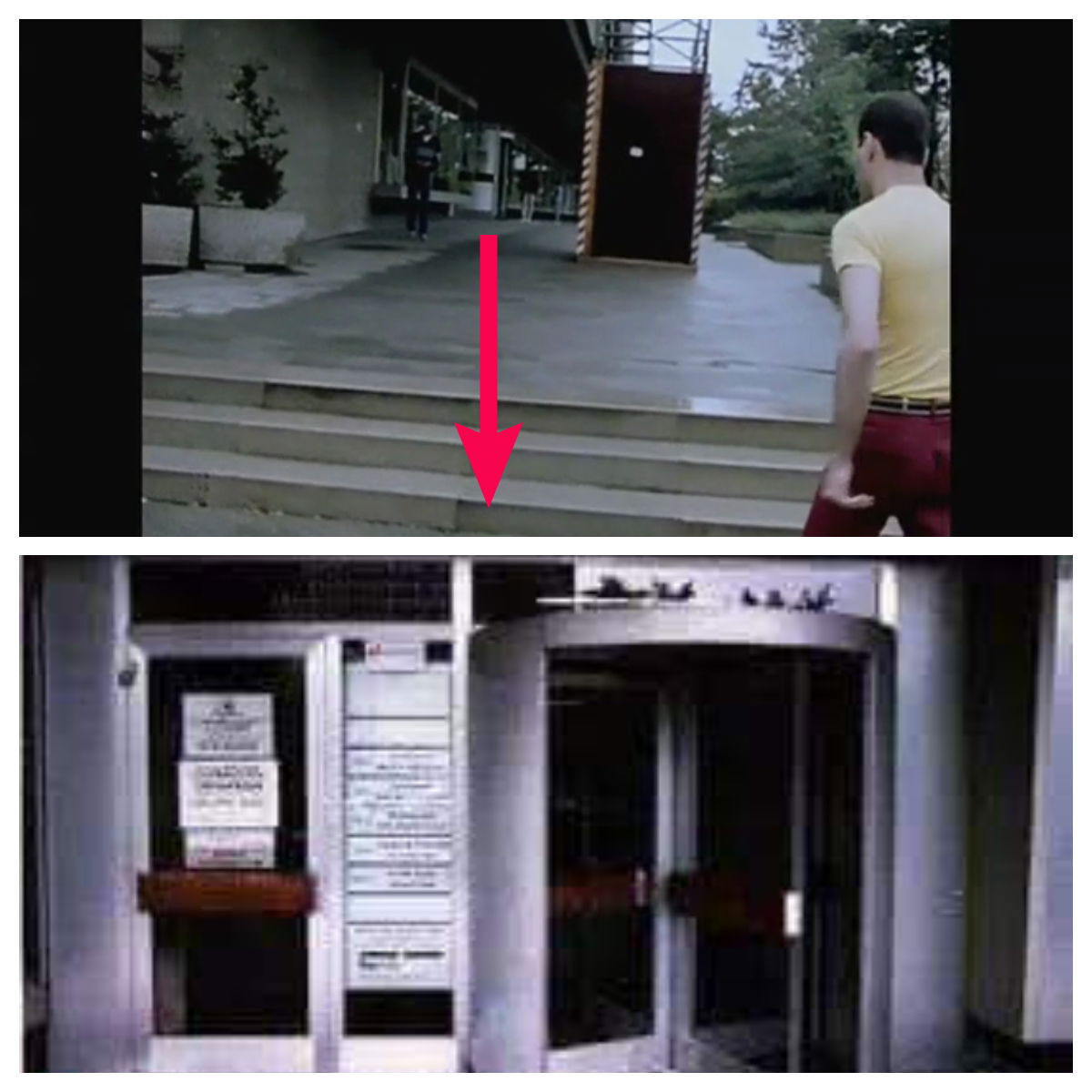 but it does not exist anymore, and this closed white door is the closest you can get to where the studio was located: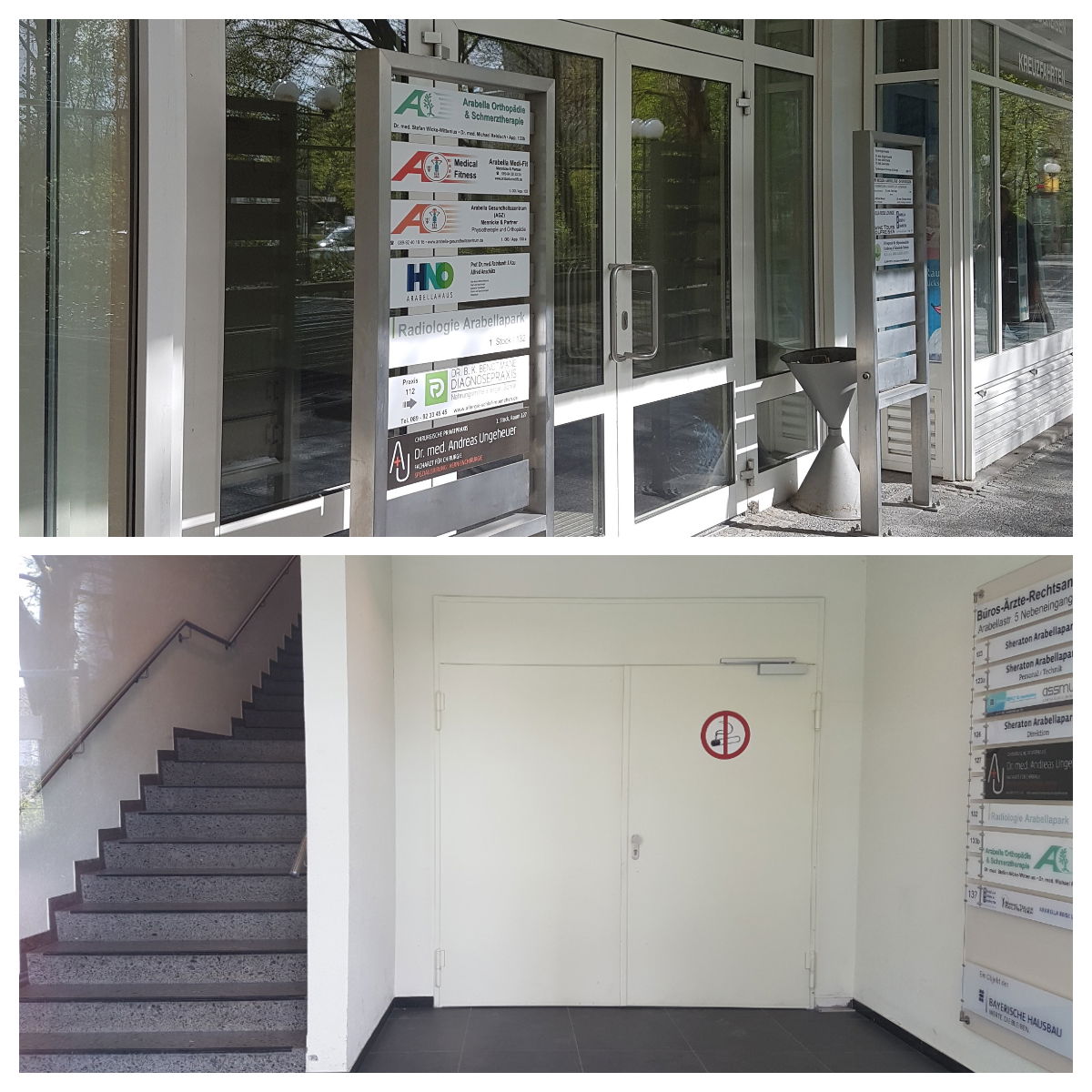 4. Freddie Mercury's apartments
Freddie lived in several apartments in the city center. He presumably stayed at this hexagonal building in Pestalozzistraße, but there is not much information about it: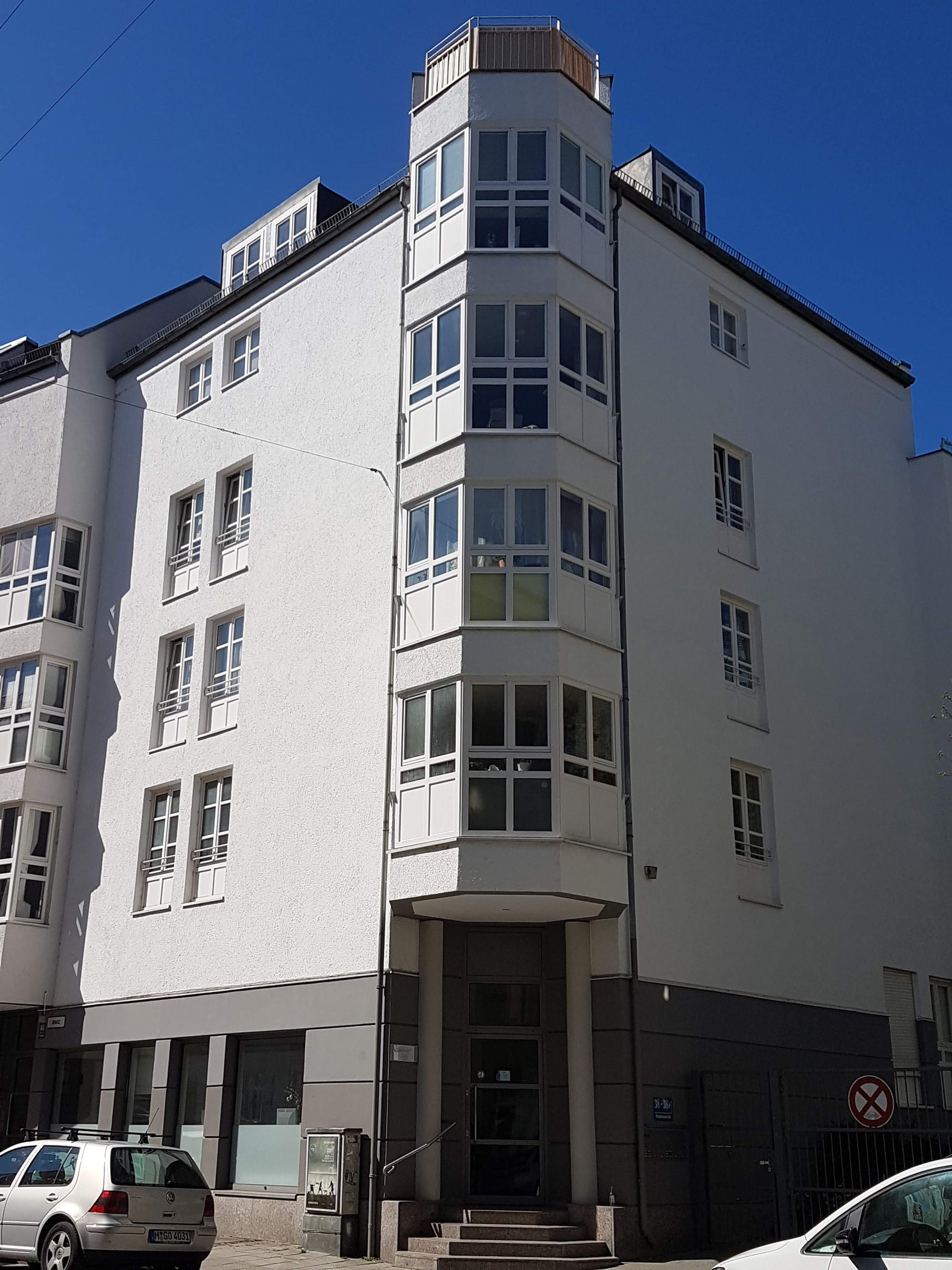 He also stayed at Barbara Valentin's apartment in 11 Stollbergstraße, above the Austernkeller (shellfish bar):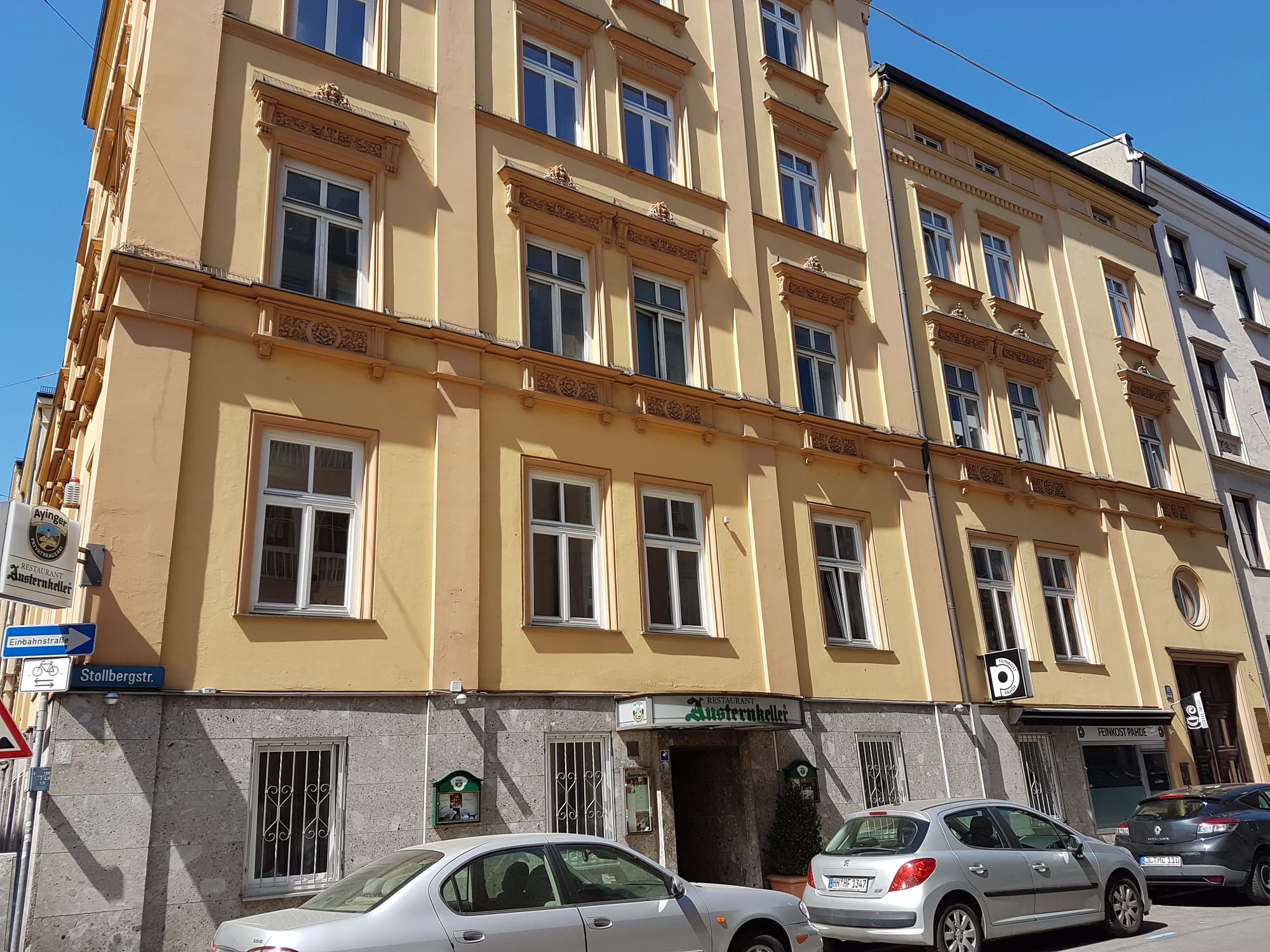 Apparently, Freddie also lived in an apartment building in Stollberg Plaza for a few months. A fellow Queenie, Peter Kraaijeveld, kindly emailed me and sent me a photo he took there and also the screenshot of "The untold story" documentary where you can actually see the apartment's entrance: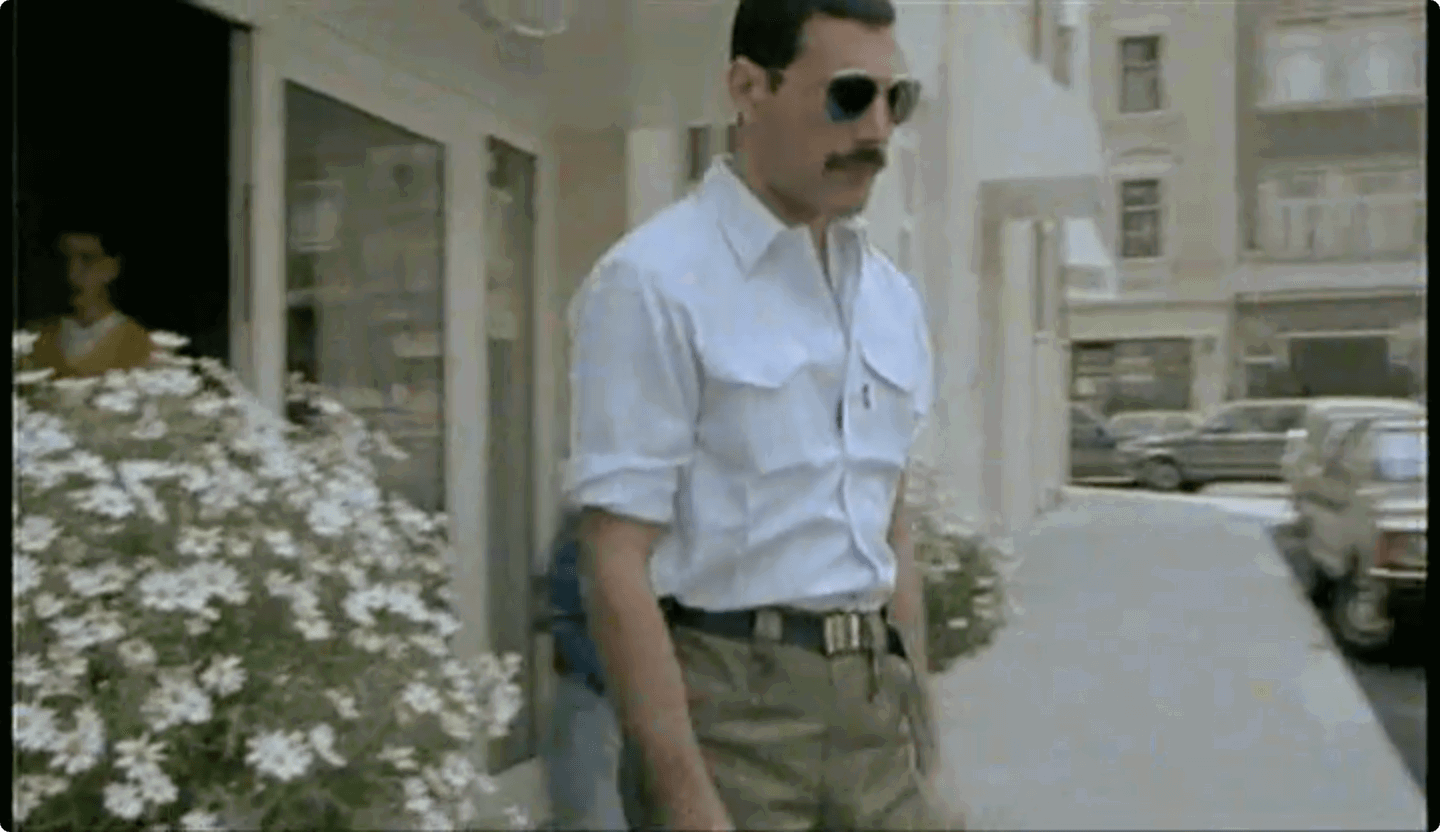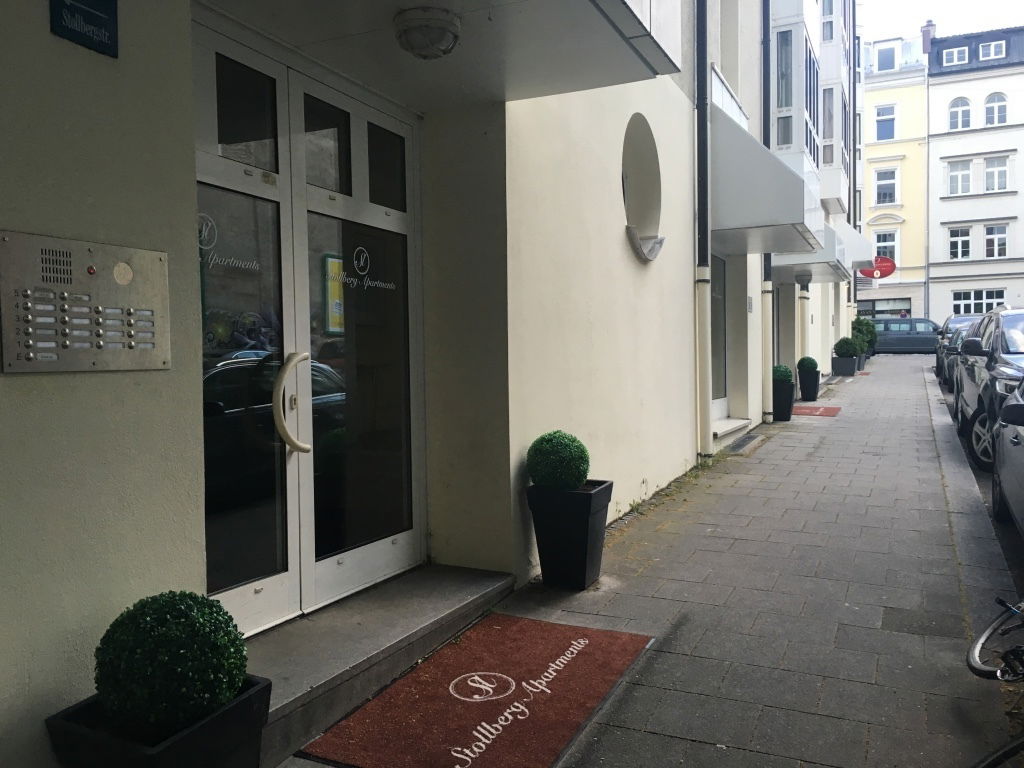 It was with this friend, Barbara Valentin, that Freddie bought an apartment at Hans-Sachs-Straße, however, he never spent a day there unfortunately. According to David Evans and Peter Freestone's book, it was located at number 5, but I've read somewhere else that it was in number 22 (left photo) and it makes more sense, as number 5 (right photo) is a quite run down building: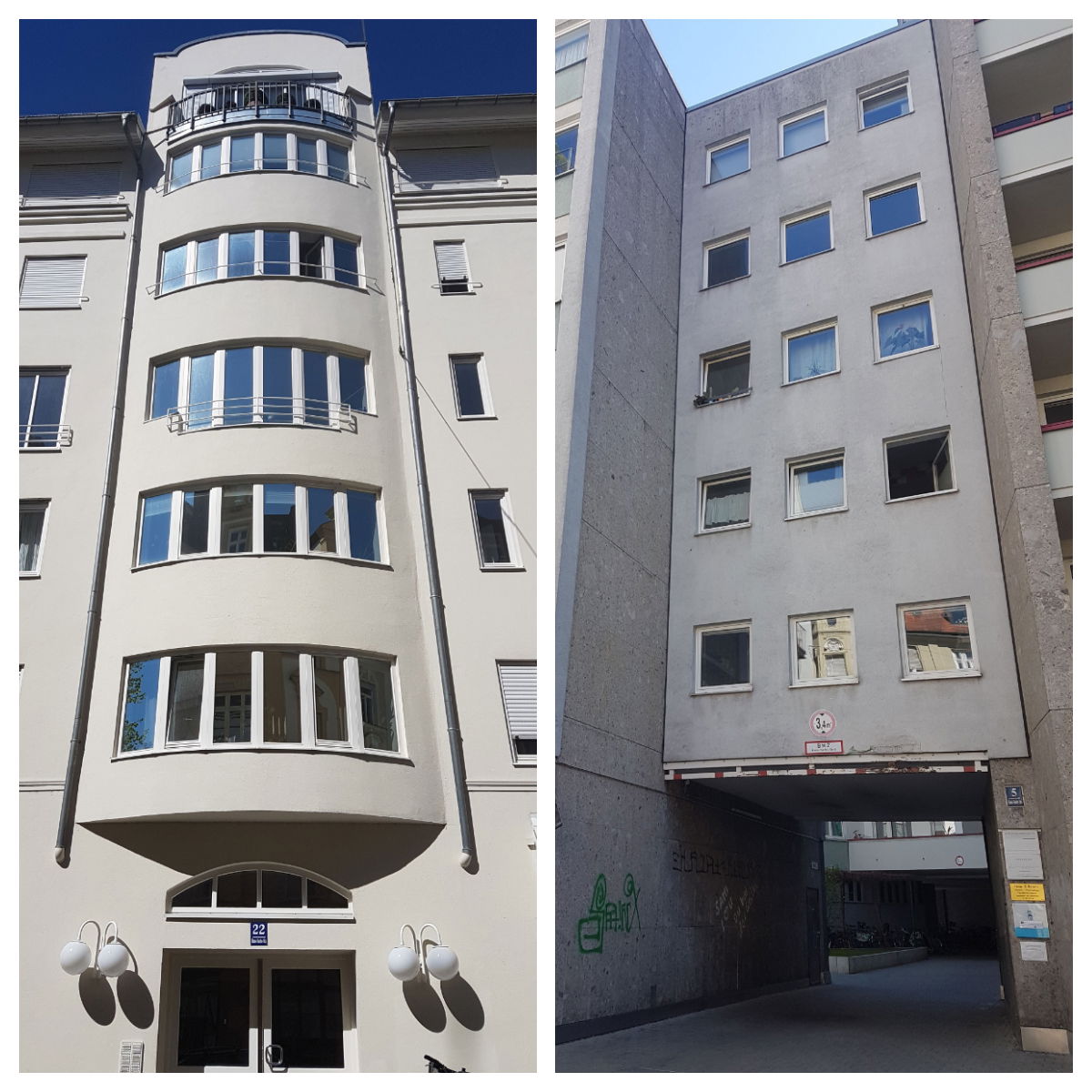 There was a billboard of the Bohemian Rhapsody movie next to the name of the street (blue sign on the right), which I found was an amusing coincidence :)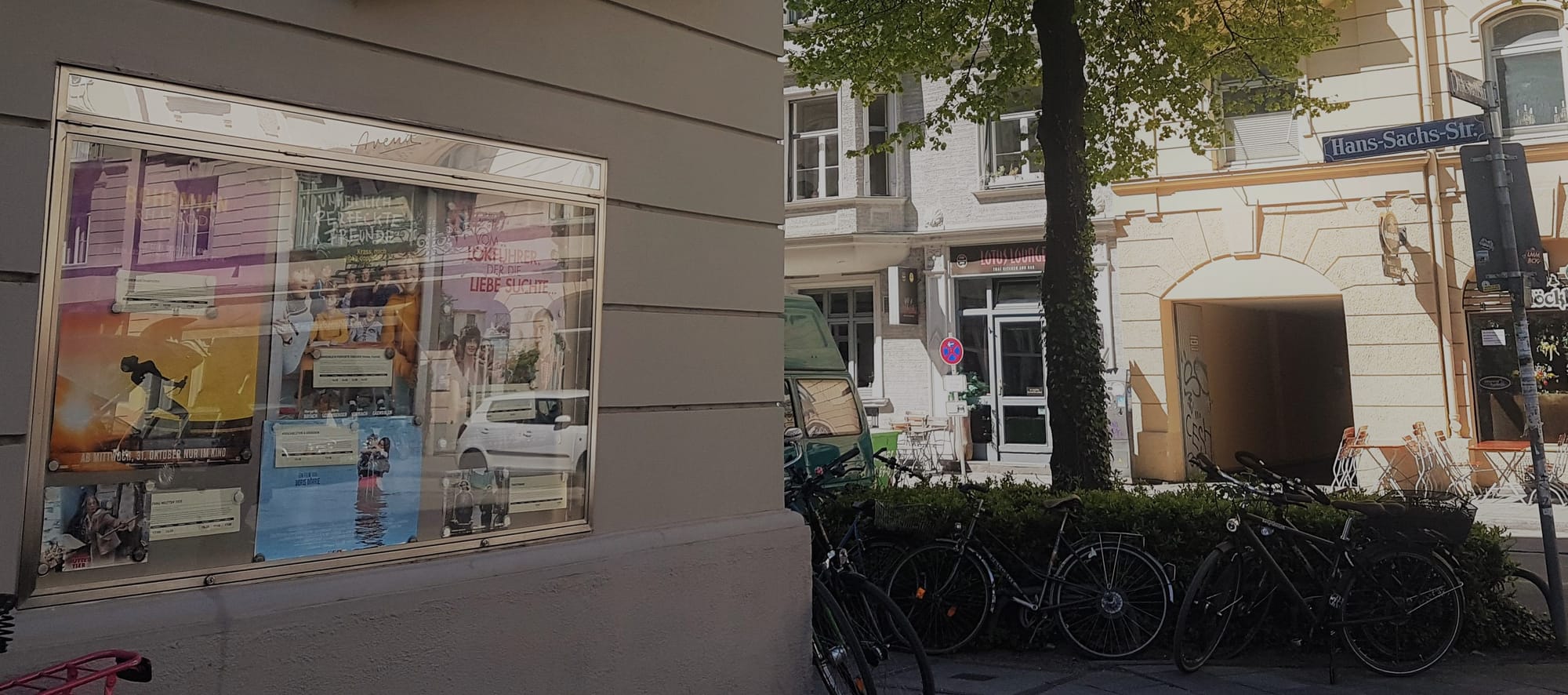 5. Hilton Munich Park
(Am Tucherpark 7, 80538 München)
Queen used to stay at this hotel, and in one of the suites is where Freddie wrote the song "Crazy little thing called love" while taking a bubble bath!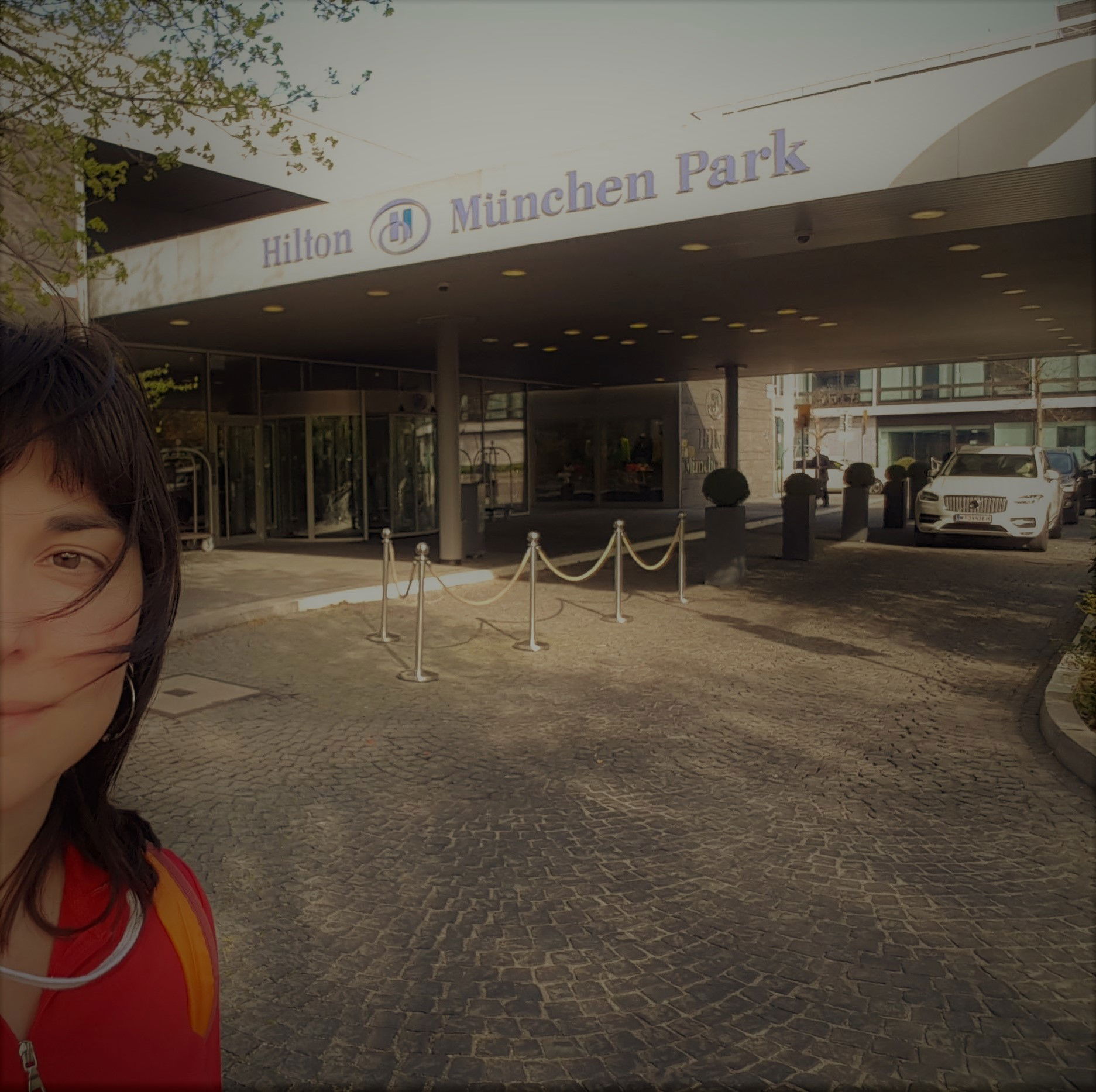 The photo on the right is the one that I took, the photo on the left was taken by Brian May in July 1979 (source: "Queen in 3D" book), and you can see Freddie on a balcony: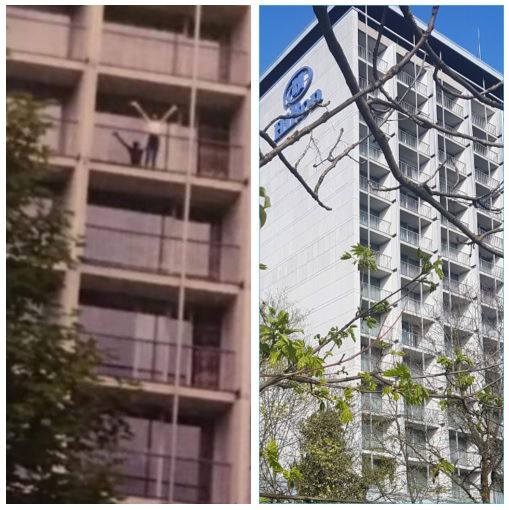 6. Hard Rock Cafe
(Platzl 1, 80331 München)
There are a few Queen and Bob Geldof's Live Aid-related artifacts in Munich's Hard Rock Cafe: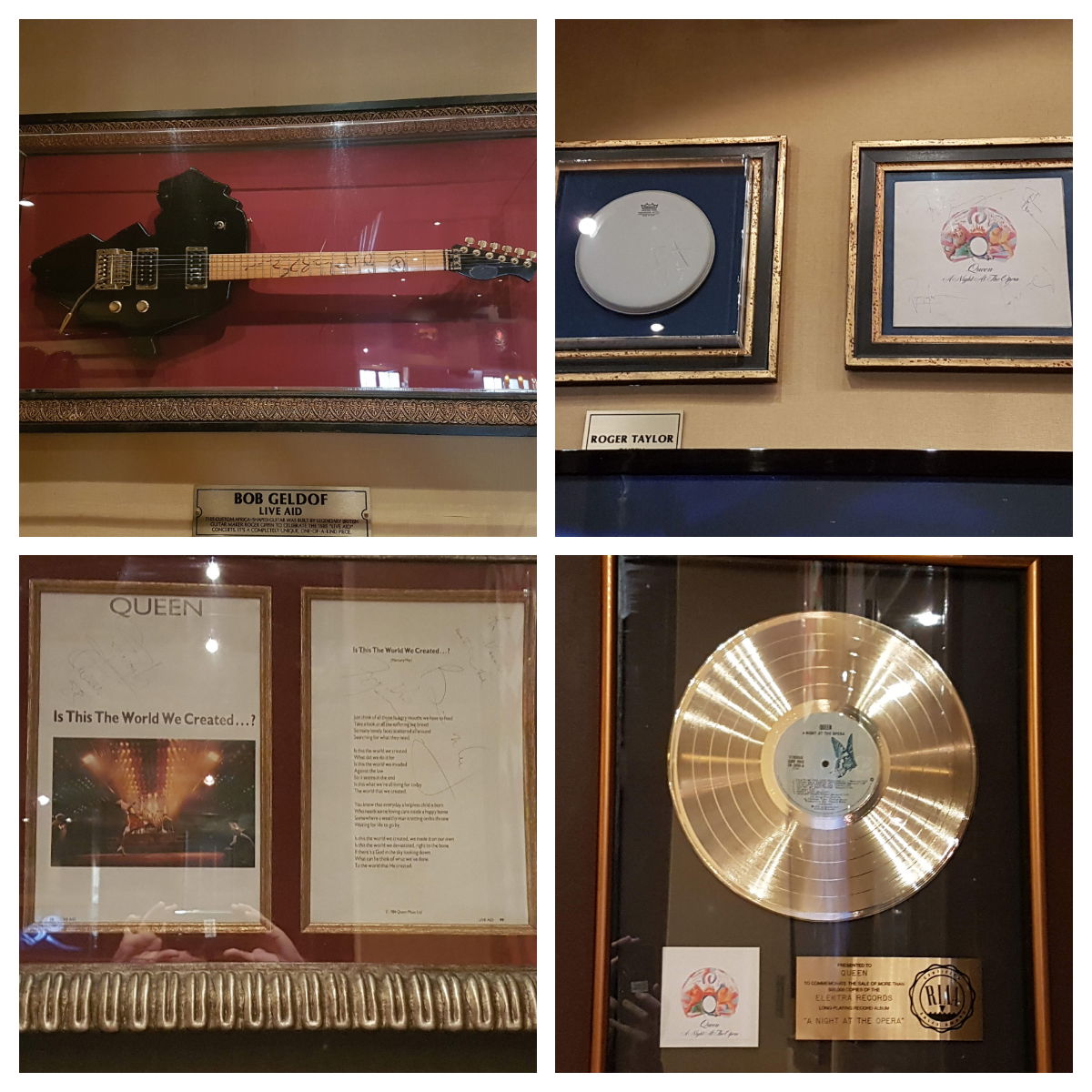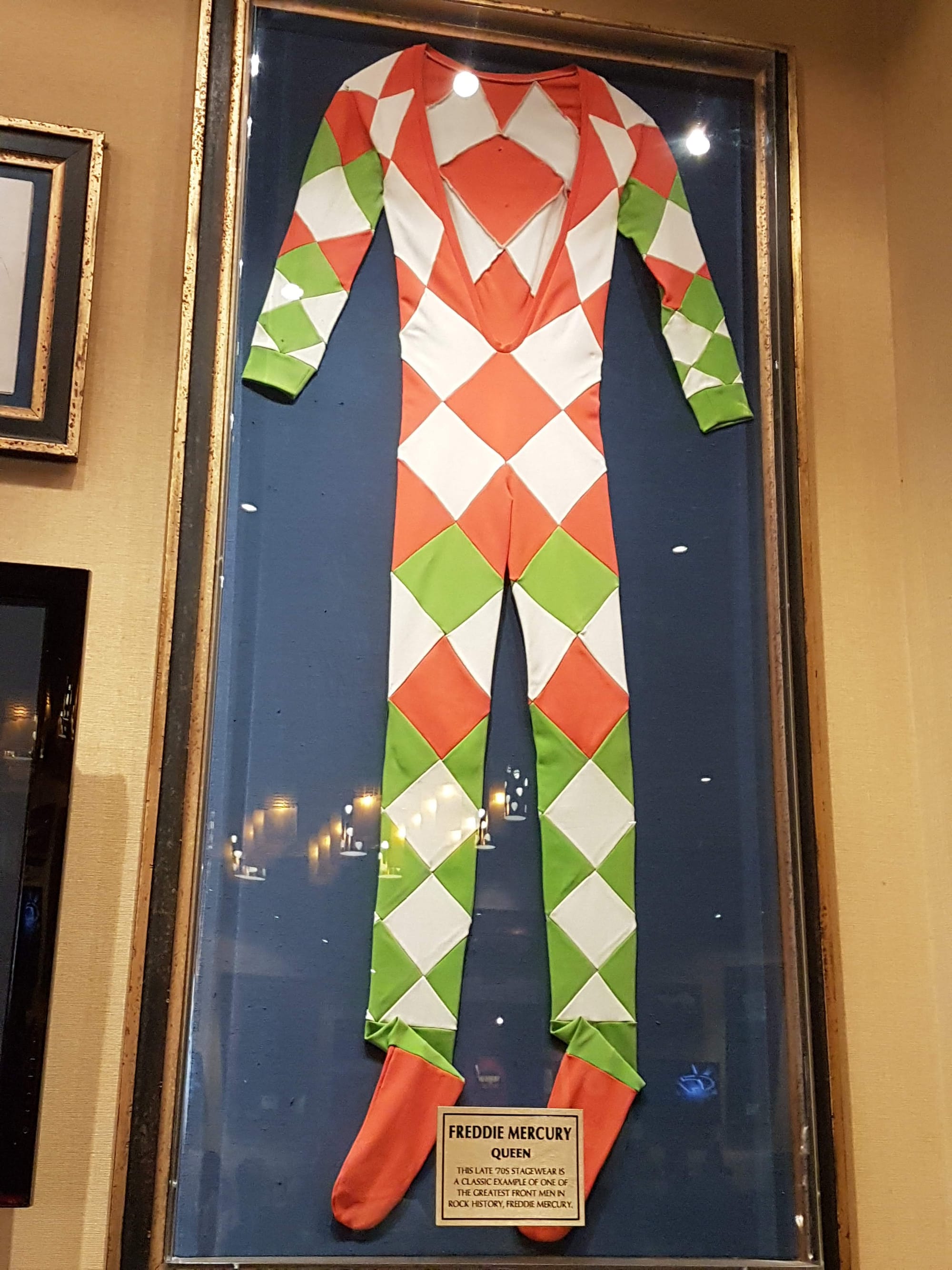 7. Haus der Kunst
(Prinzregentenstraße 1, 80538 München)
In this art gallery, a famous press photo session of the band took place in 1984: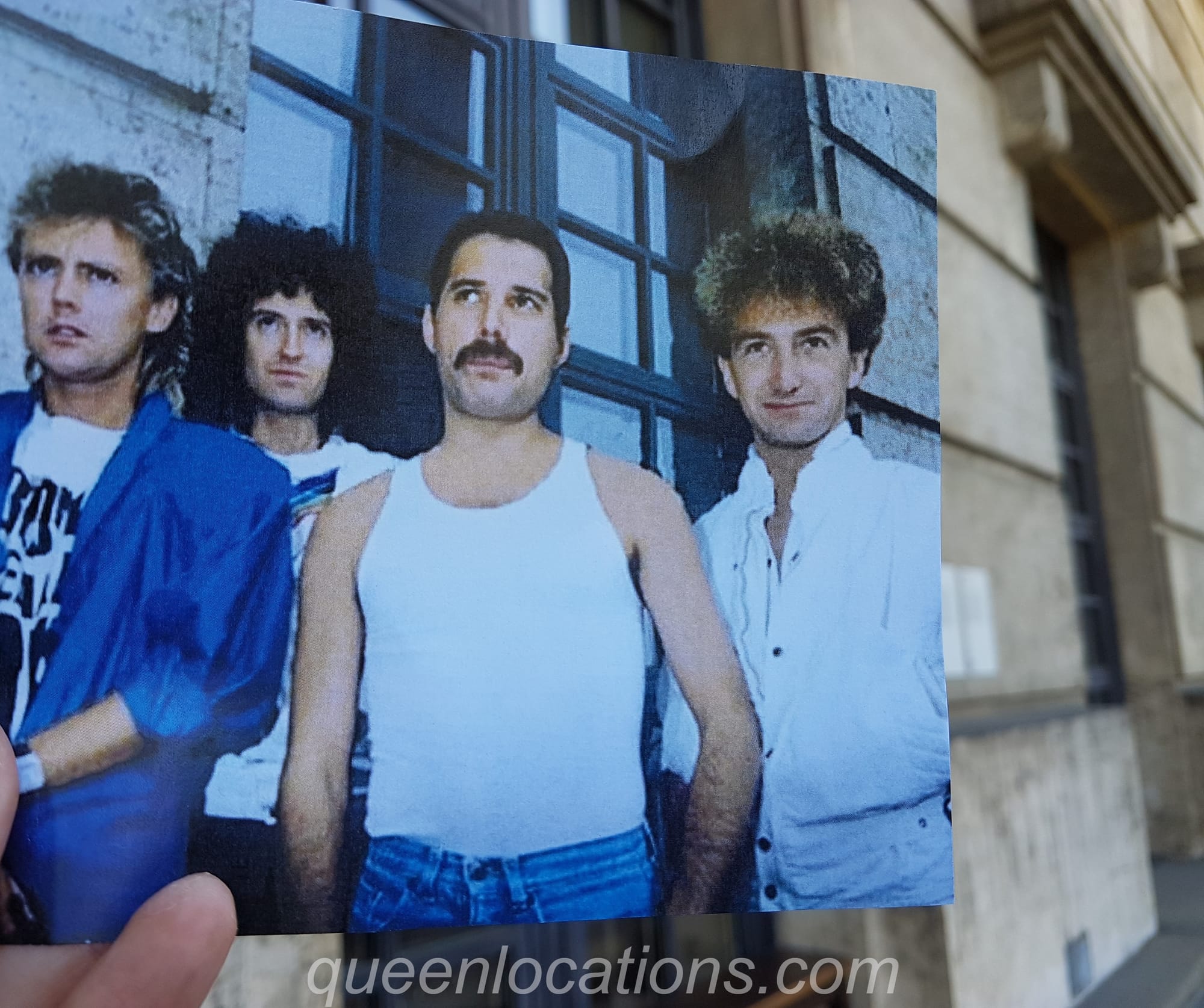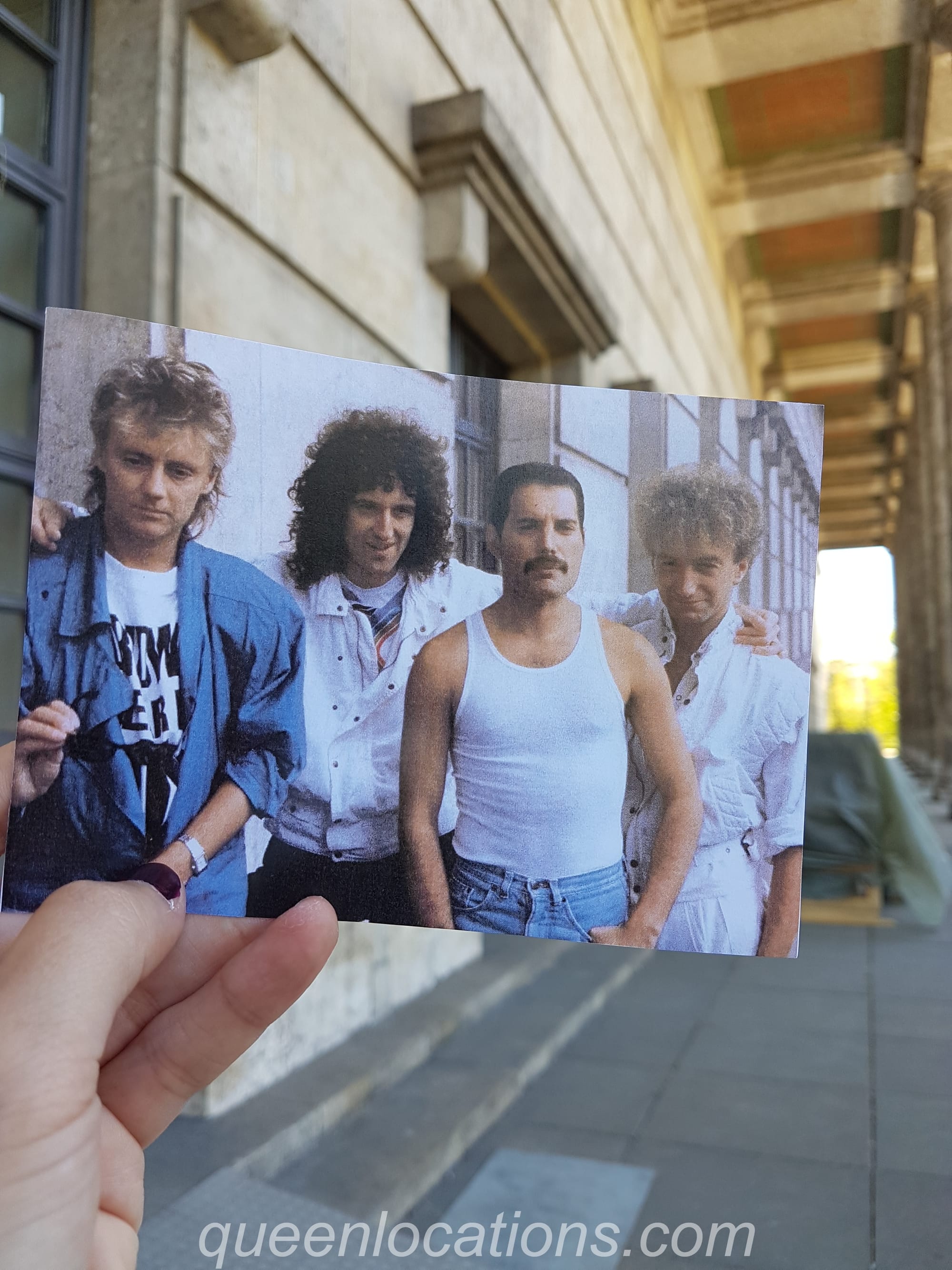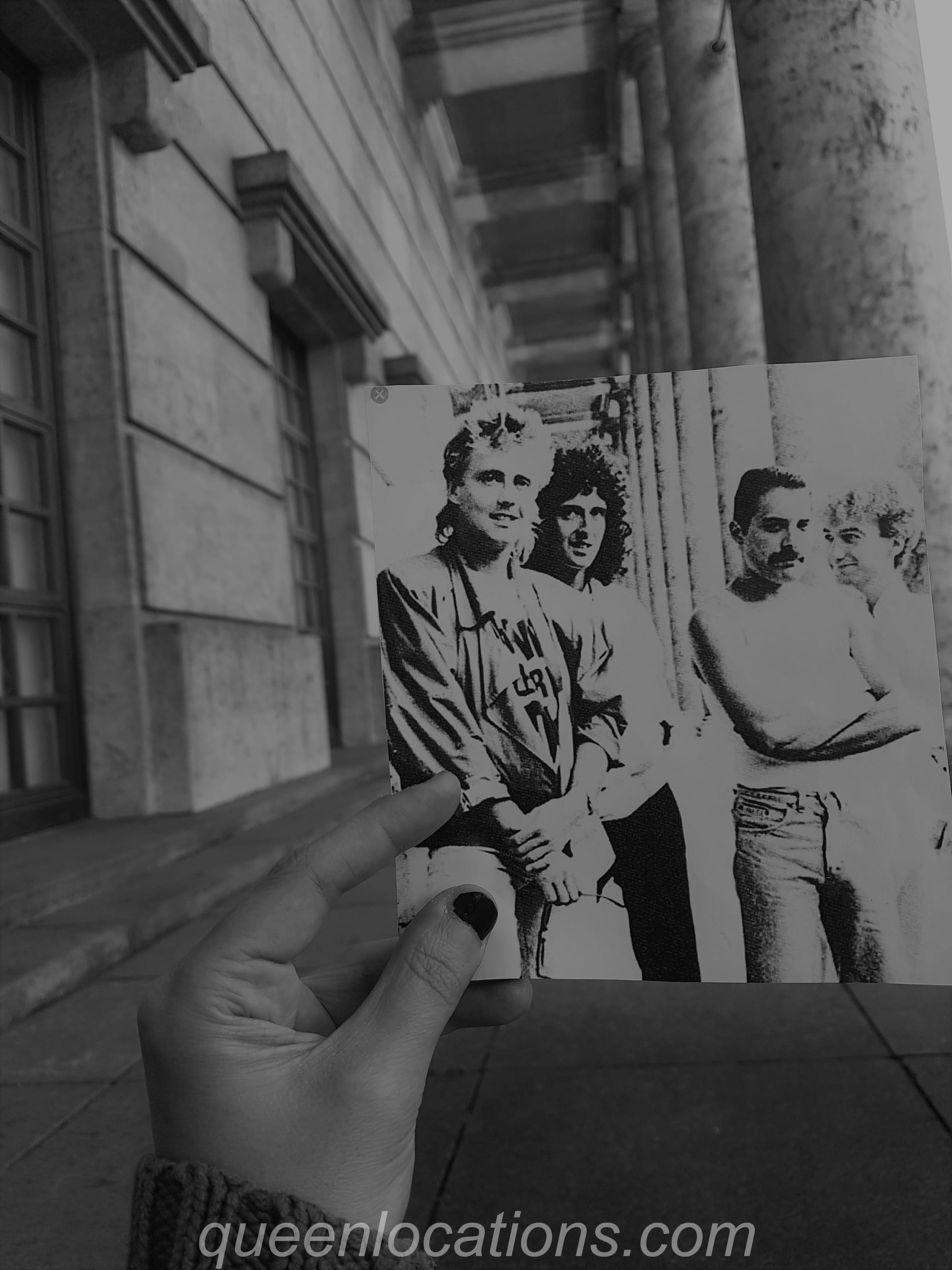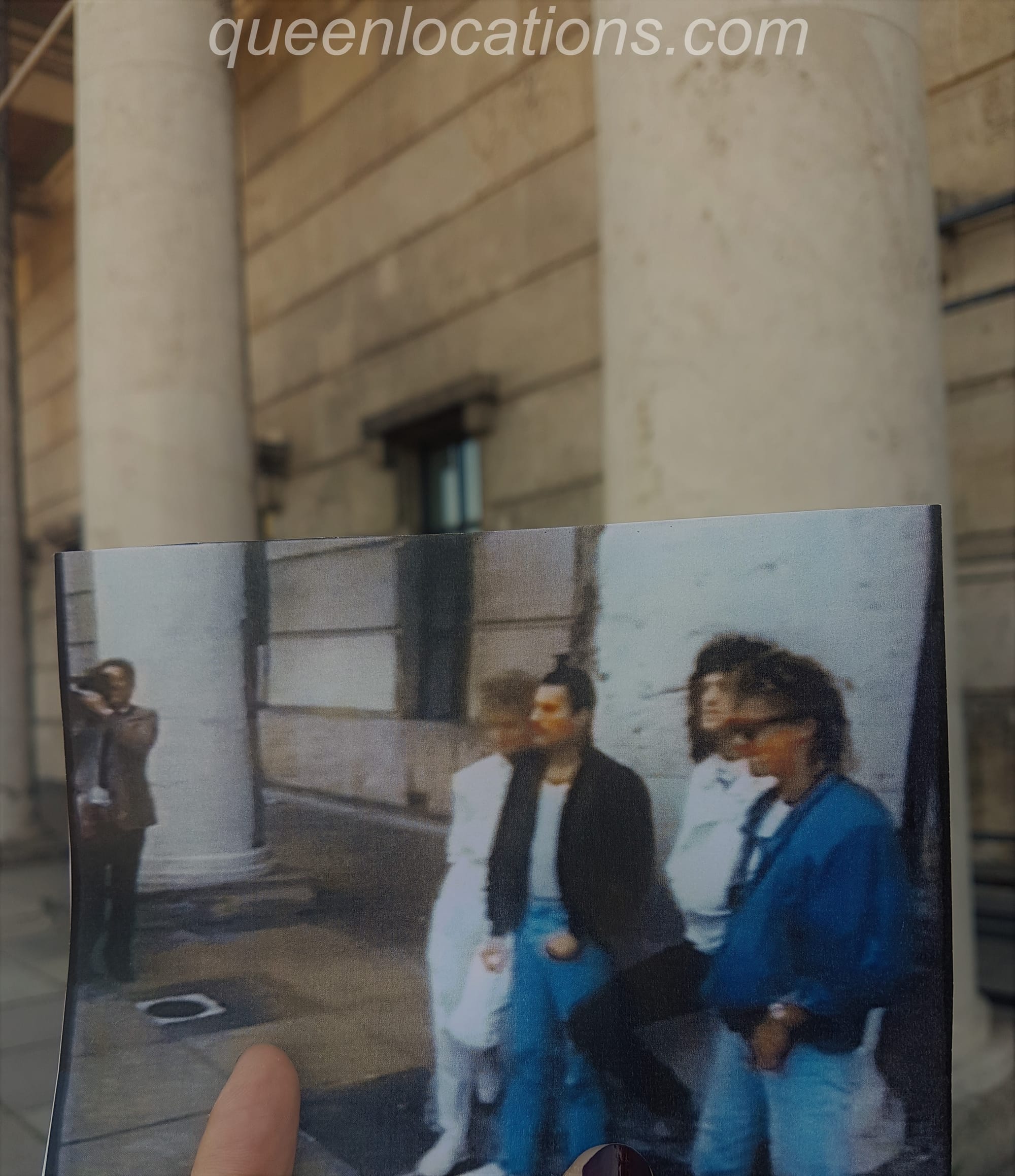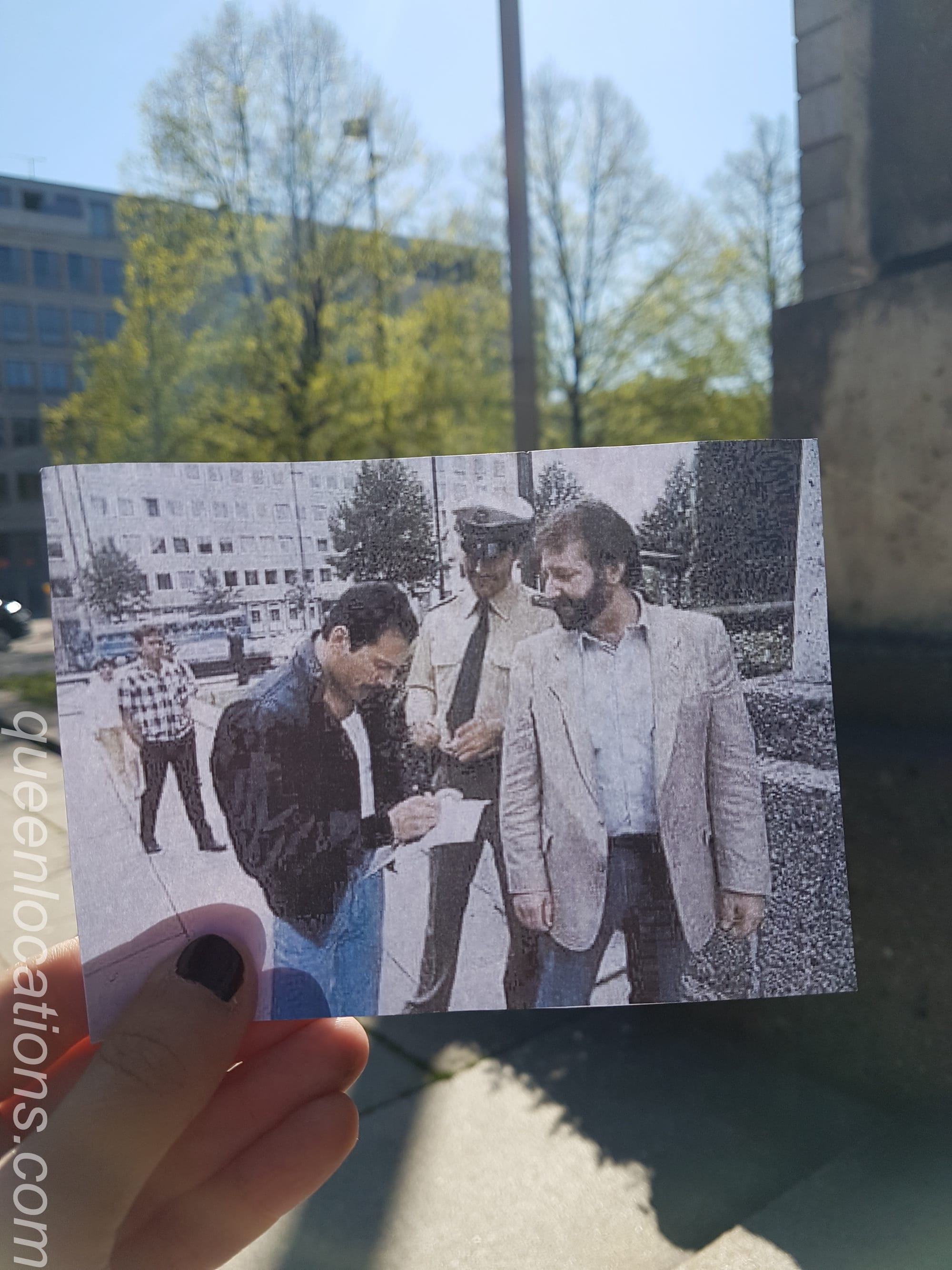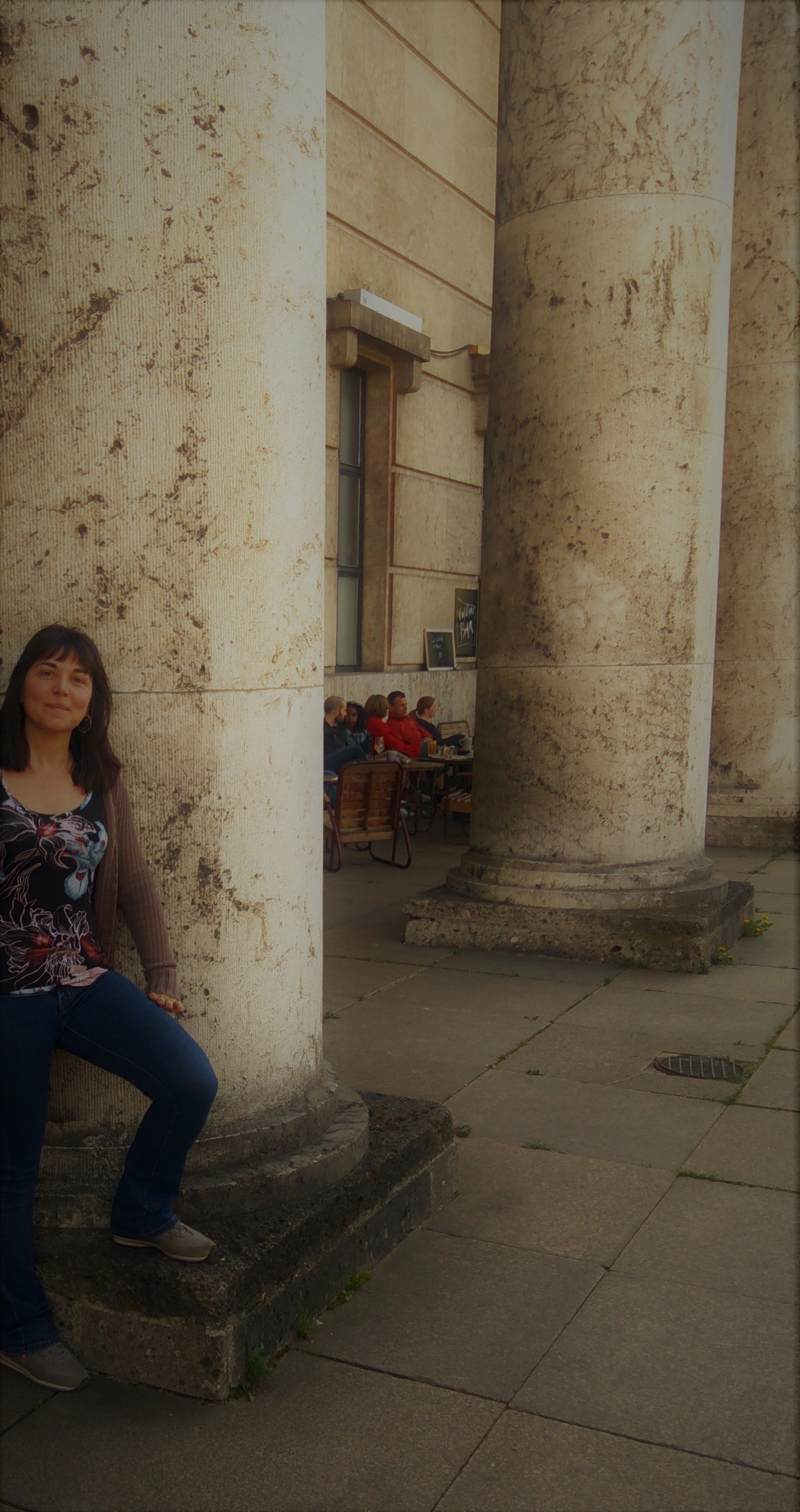 8. Pubs and clubs
Freddie used to go frequently to the same pubs/Gay clubs, such as Ochsengarten (top left, Müllerstraße 47), Cafe NiL, near the apartment he bought with Barbara (bottom left, Hans-Sachs-Straße 2), the former Frisco (bottom right, now called "1,2,3 Tiki Tiki!", Blumenstraße 43), and the former Old Mrs Henderson, where he celebrated his 39th birthday and had a massive party, and also where the "Living on my own" videoclip was shot (top right, now called "Paradiso Tanzbar", Rumfordstraße 2).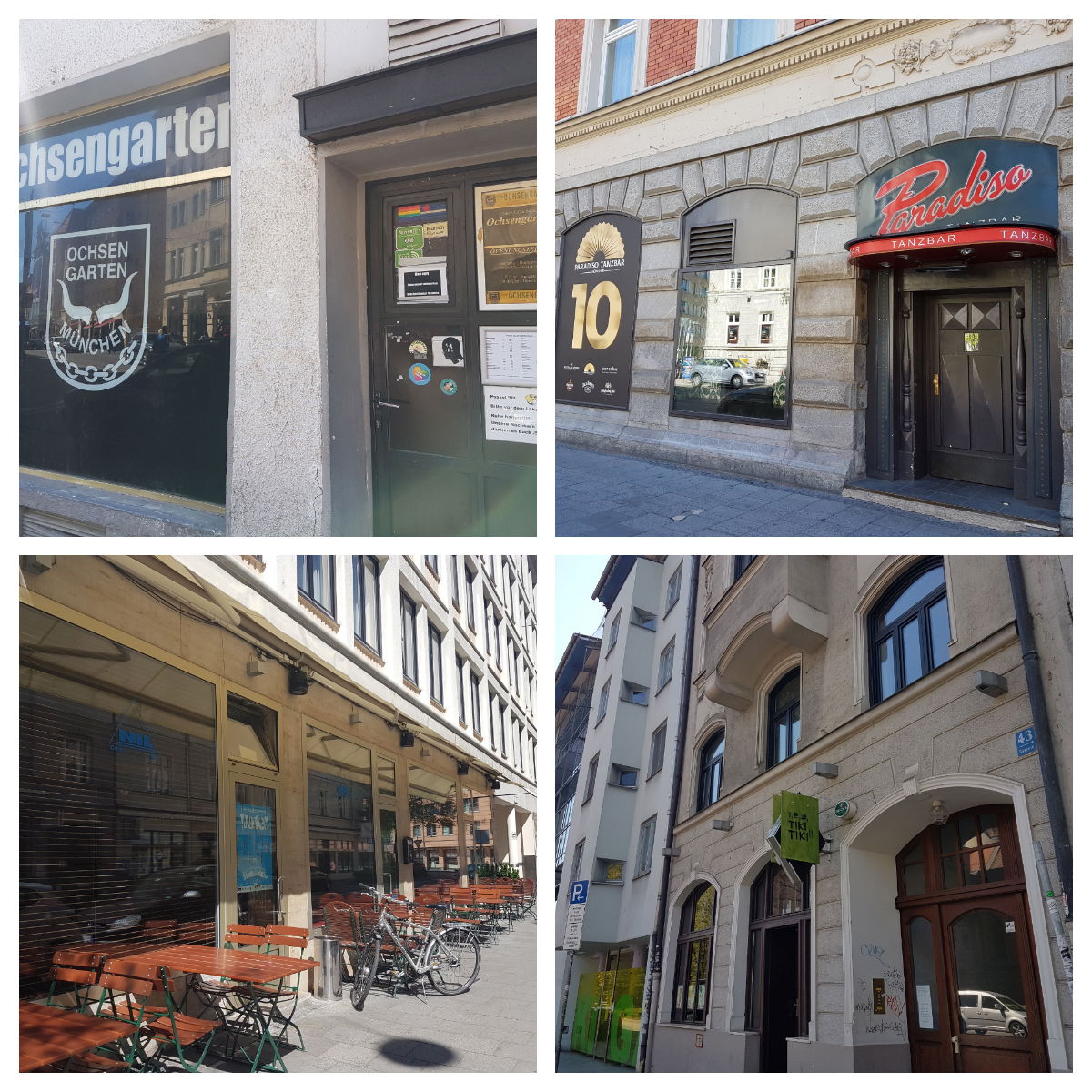 Check this funny, unintentional, reference to "Killer Queen" song at former Old Mrs Henderson's :)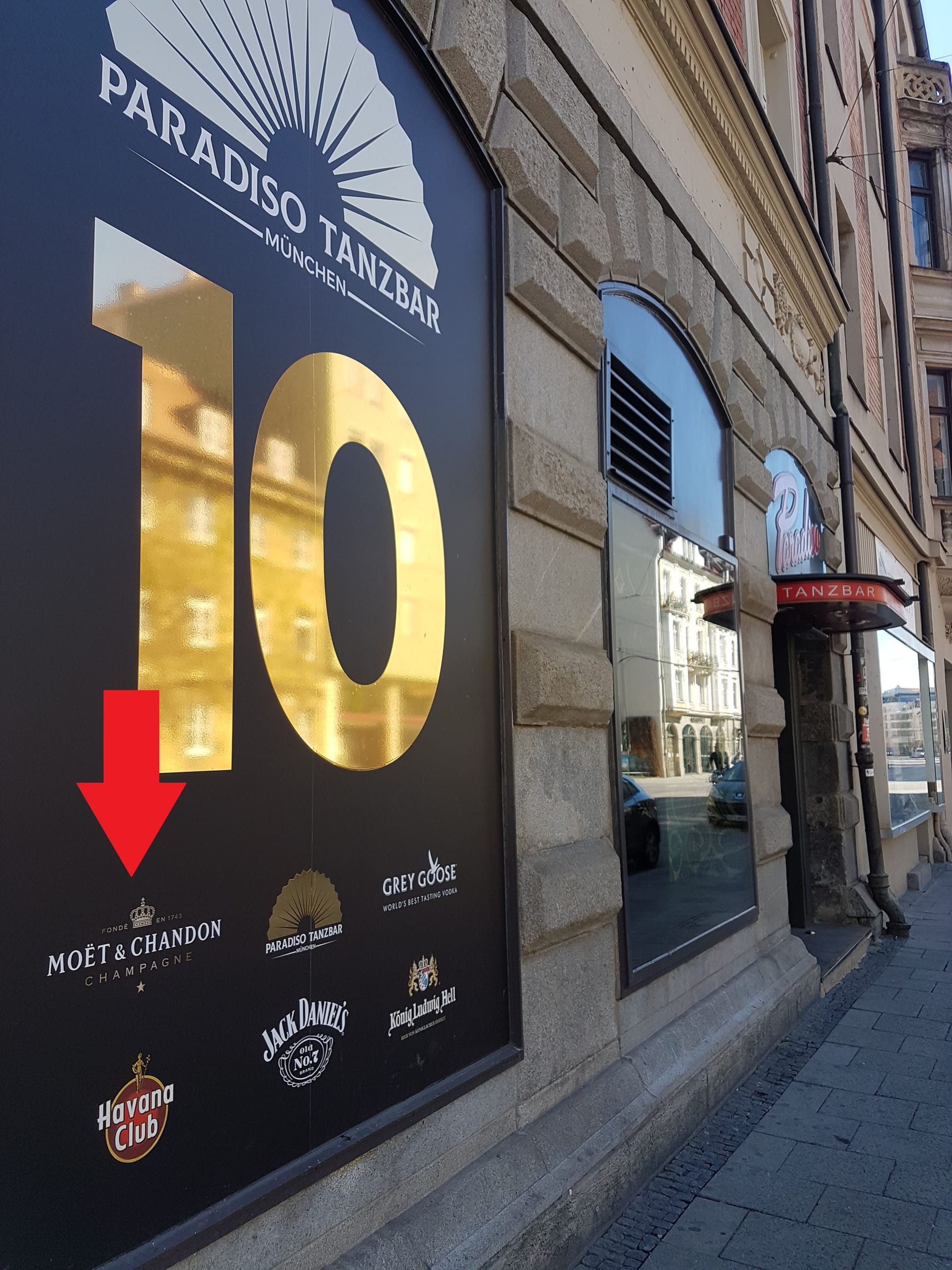 Another little pub he visted often was Le Clou. It is worth visiting, as it is a very authentic place, with old local rockers, a huge motorbike on the wall and some Freddie photos inside!!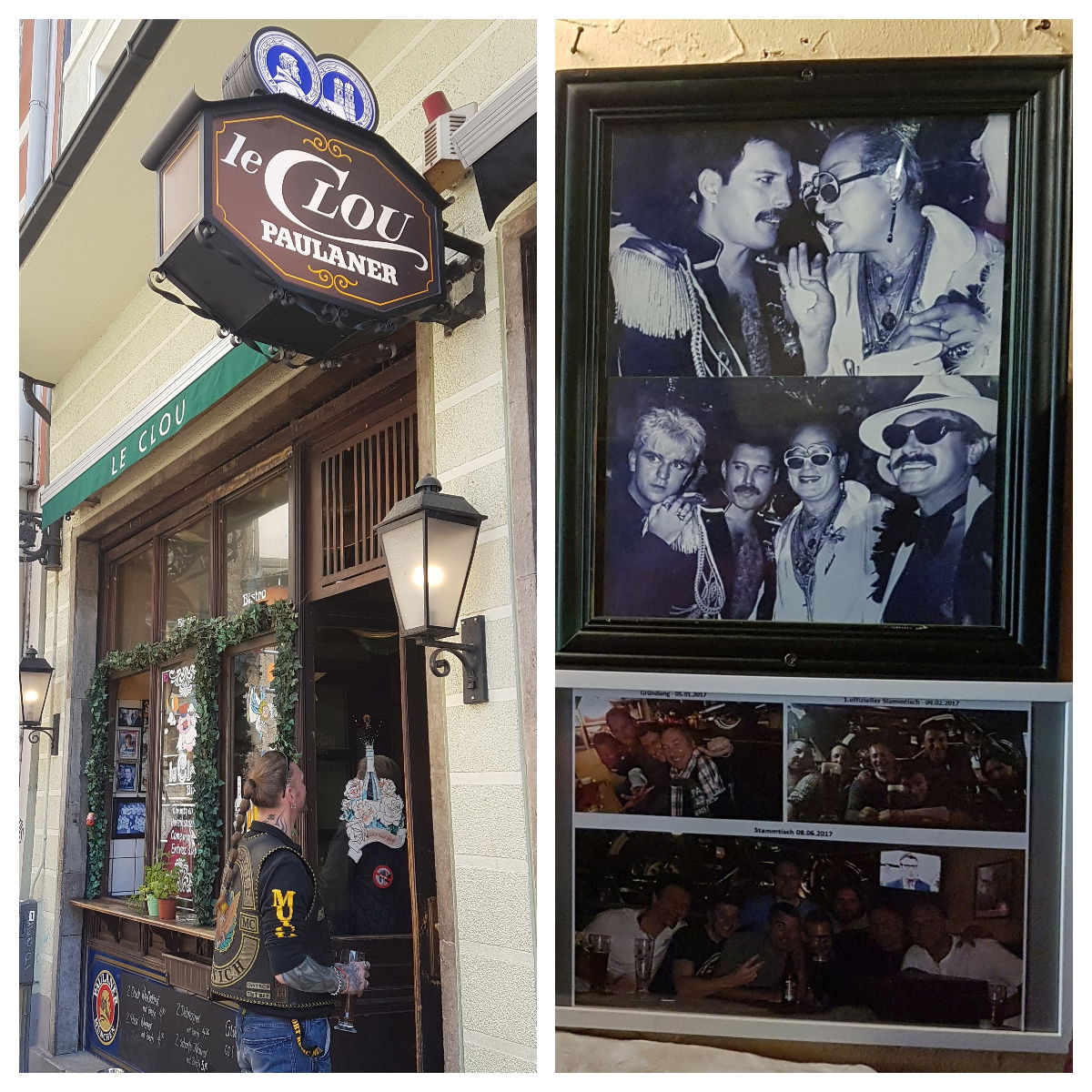 9. Restaurants
Freddie and the band used to eat in local restaurants. Two of them are particularly interesting: Sebastainseck (now called "Hoiz Weinbistro", Sebastianspl. 3) was ruled by Winnie Kirchberger, a former Freddie's boyfriend, who used to cook him his favourite dish: pork knuckle!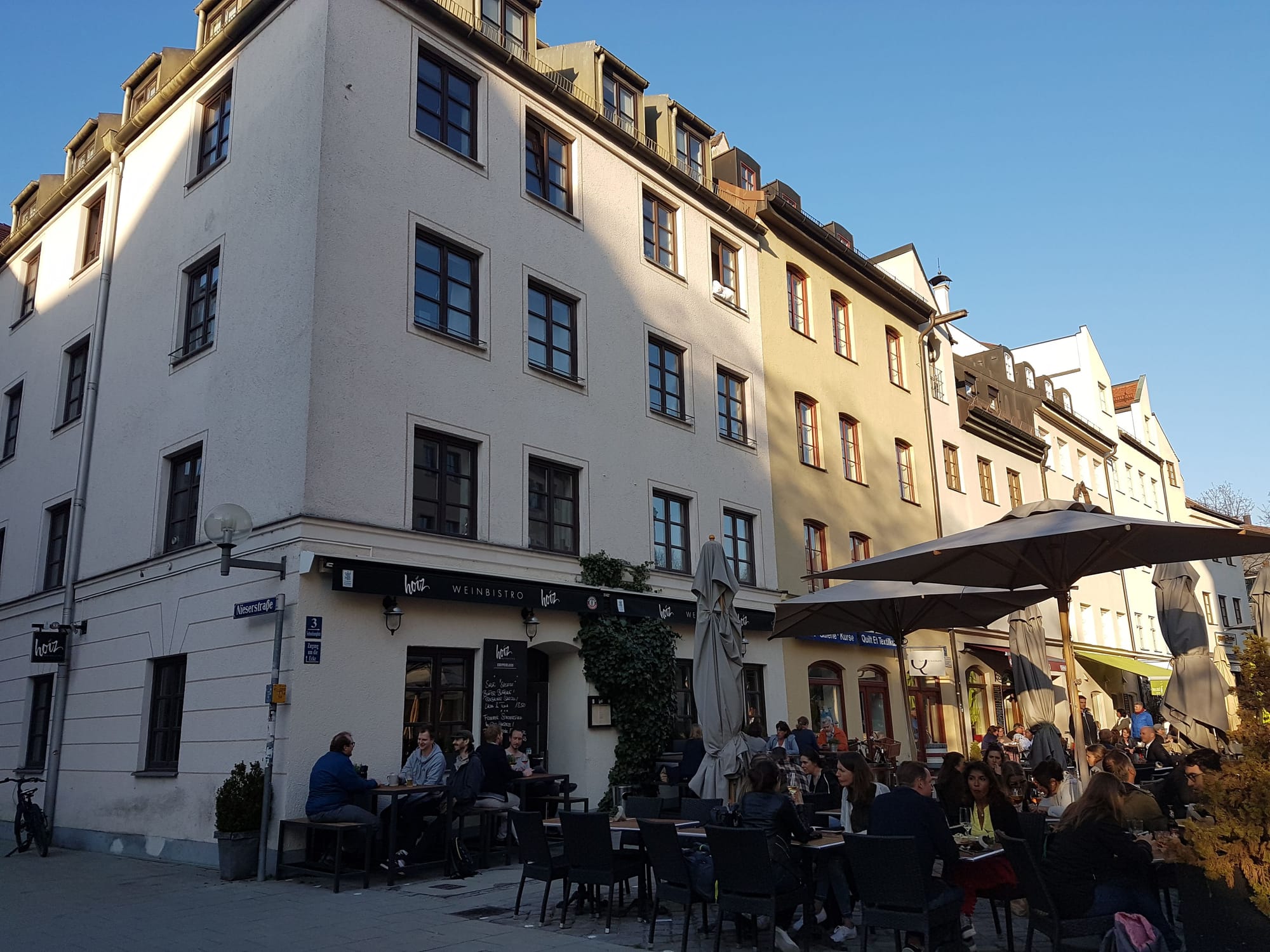 and the other interesting place is "Deutsche Eiche" (Reichenbachstraße 13), a restaurant, hotel, and gay sauna all at once, where very nice food is served, and you can have a dish named after Freddie while looking at pictures of him in the wall!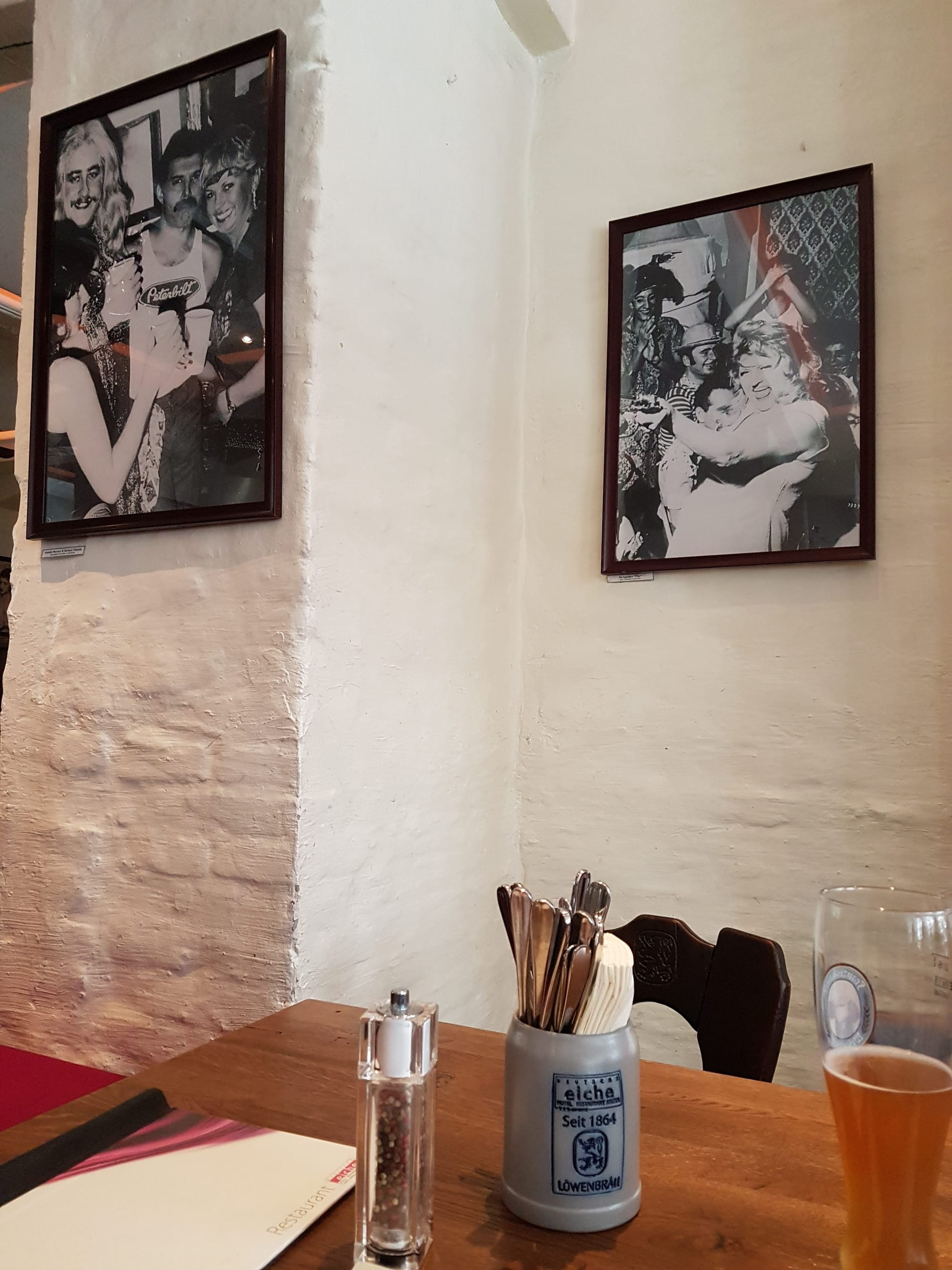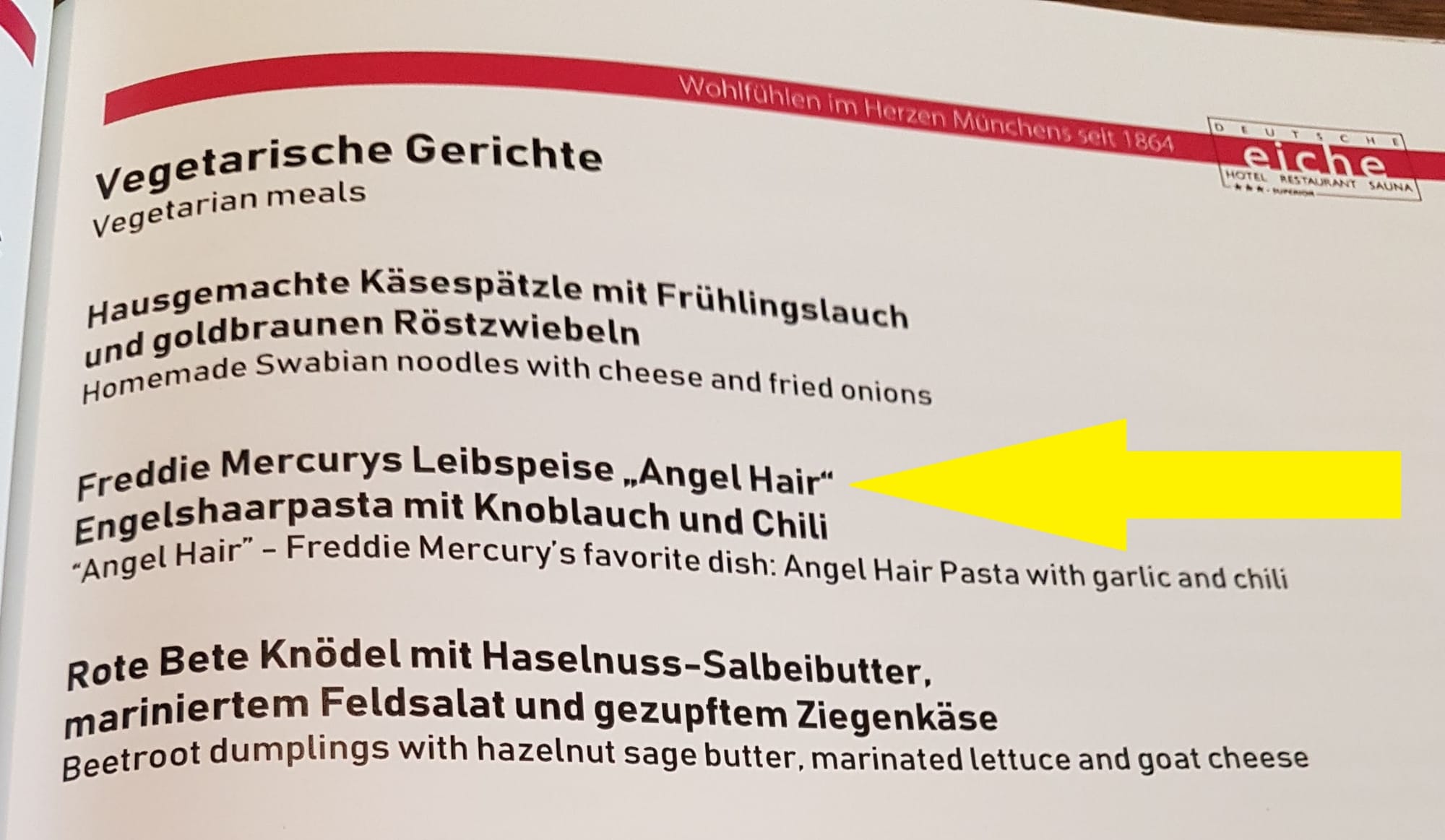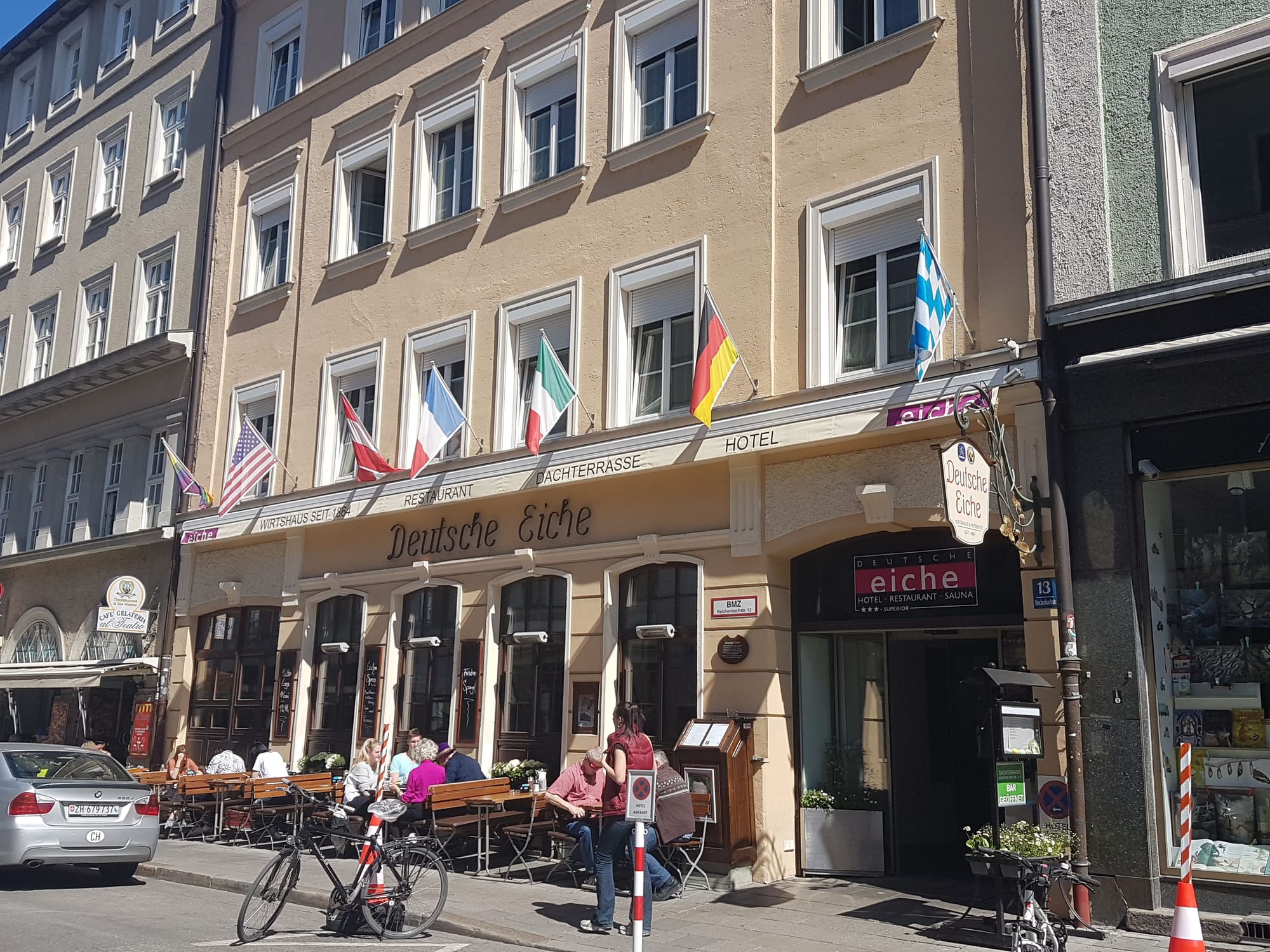 Off-topic
At the Rockmuseum there are artifacts and tickets from other great musicians, and I was thrilled to find things from my other favourite bands: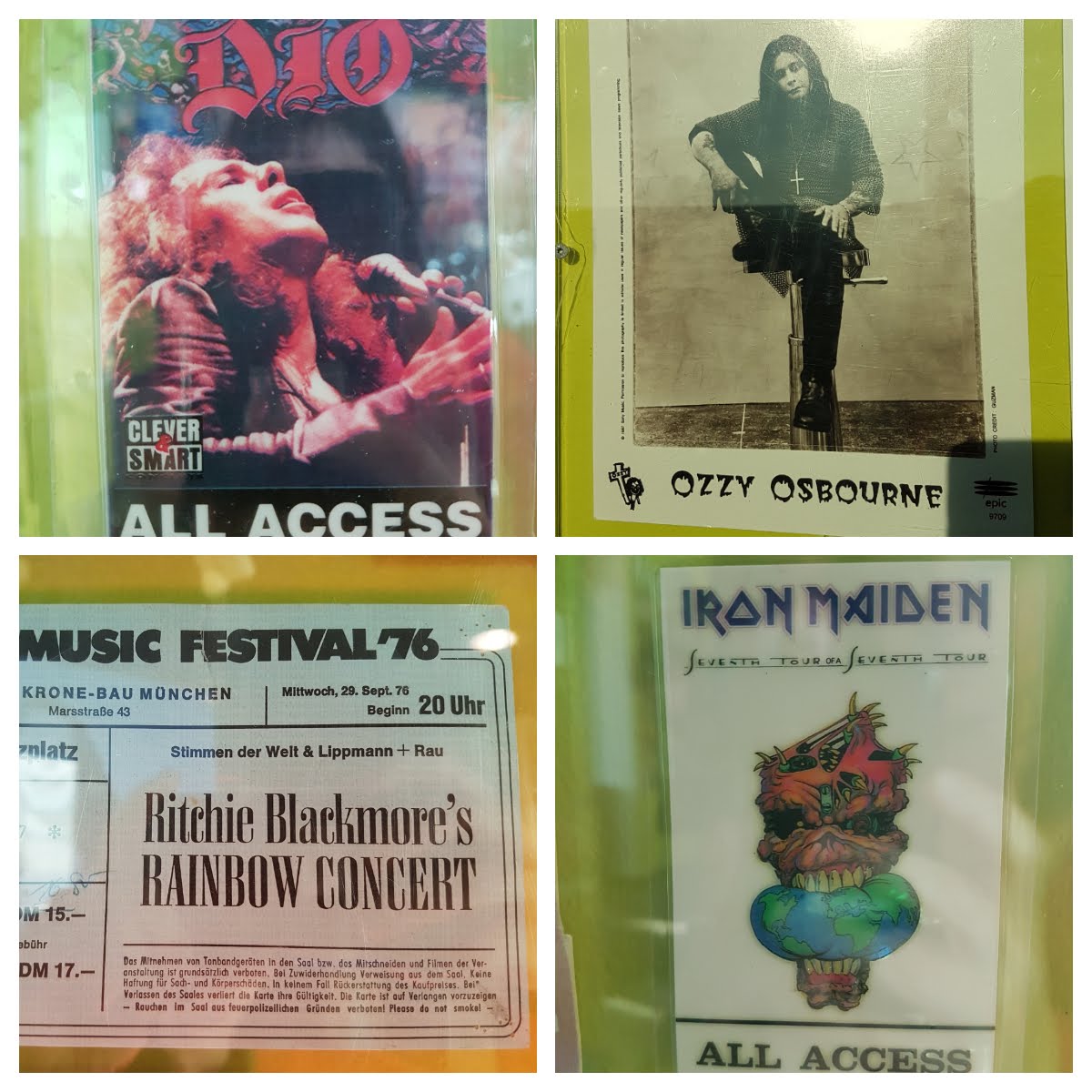 I hope that you liked this post and that you can visit this fantastic city at some point, I have fallen in love with München and probably you will too!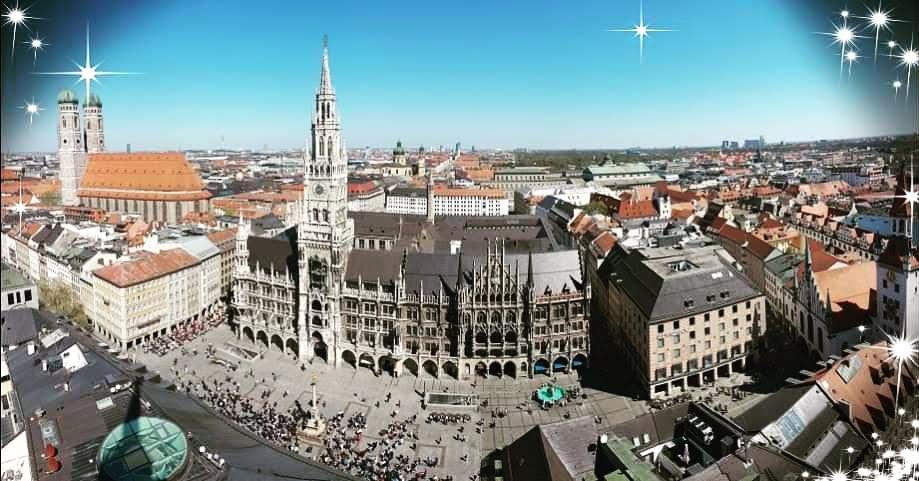 And finally, I would like to thank Andreas for mentioning this blog on the Queen Fan-Club Germany website
Keep reading!!! Click here to go back to the main page and take a look, there are posts about many other cities